Small-town security guard, Gill Martin, has lived in Mystique Pointe his entire life. His dating prospects are non-existent and he doesn't particularly like his job, but at least it's better than unemployment. Besides, he hasn't got any better ideas.
Big-city artist, Tommy Hearne, knows exactly what he wants out of life: a successful art career and a successful relationship. He also knows that living in Liberty City is his best chance for pursuing both. Unfortunately, for him, neither of these pursuits seem to be panning out quite to his liking.
When Tommy and his misfit band of friends roll into town for the Laissez Faire, Mystique Pointe's annual music & art festival, worlds definitely collide. A fiery tryst sparks more than just a lust connection, but what happens when the weekend is over?
Romance | MM | Contemporary
ISBN: 978-1-77339-846-4
Evernight Publishing
Available: August 3, 2015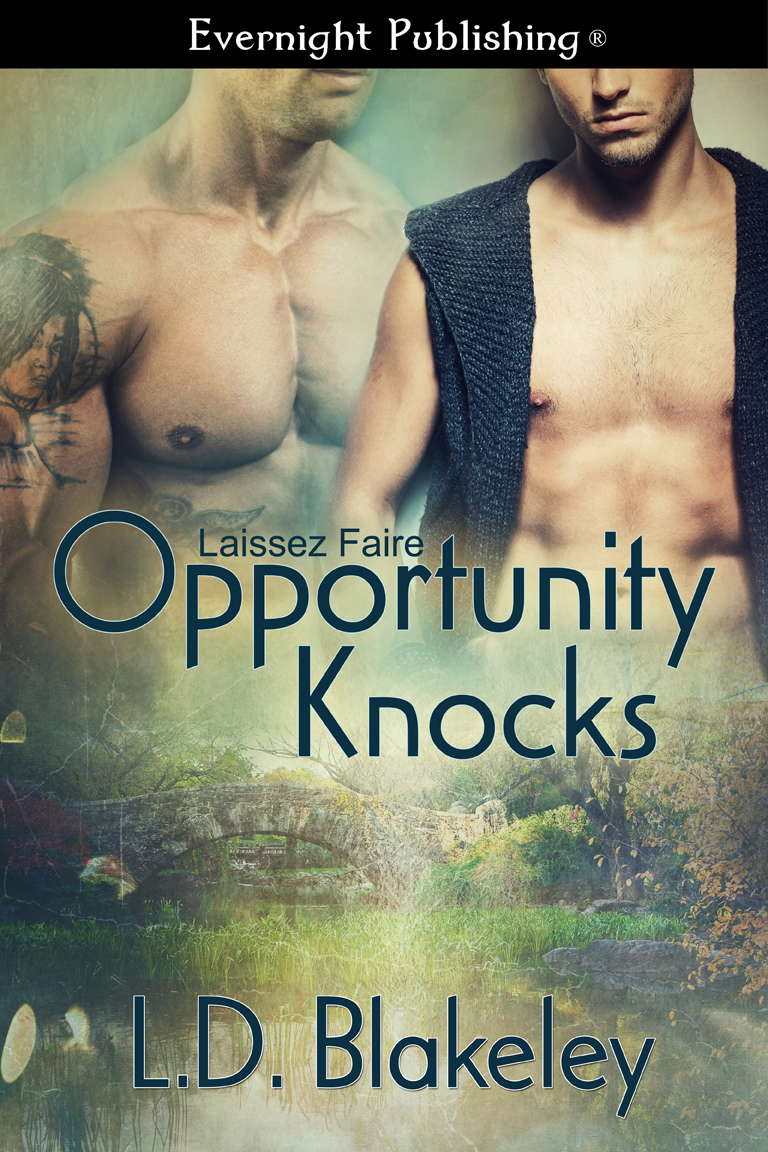 I adore the tentative fumbles that lead to an all-out explosion of passion
...well written, and the sex scenes were pretty damn hot...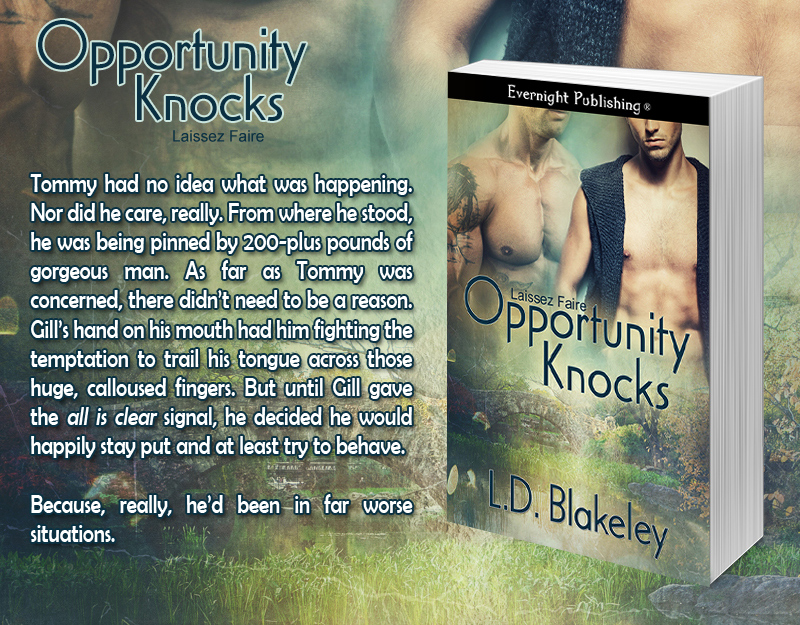 Tommy followed closely behind Gill as they made their way out to the parking lot. He did a quick head count and realized that there were only five of them and that lap-sitting wasn't going to be on the menu after all. But when Kat took out her keys to trigger the unlock remote and Tommy saw the responding lights on a tiny Fiat 500, he almost cheered. There was barely room for two grown men in the back seat. Good thing he was willing to make the sacrifice and let the others ride in comfort.
"Amy, why don't you sit up front?" Kat had opened the driver-side door and was about to climb in when she added, "You can pull the seat forward and let the two leggy boys have a bit more room. Sorry, Tommy—looks like you're gonna have to squeeze in on top."
Tommy had never been so happy to be the short man out. He waited to see which side of the car Alec chose, and made sure he was at the opposite door. And when Gill climbed in, his T-shirt rucked up slightly, giving Tommy the most delicious glimpse of skin above the most perfect denim-clad bubble butt he'd ever seen. Oh, thank goodness for well-lit parking lots.
"You getting in?" Gill had an expression on his face Tommy was unable to read. Although, if it they'd been working with a bit more than car lot lights, he was sure he'd be able to see another blush staining that handsome face.
Poking his head inside the car, he carefully leaned across Gill's lap and braced himself on Alec's leg before climbing in entirely and sitting carefully on top of Gill. There really wasn't a lot of room in Kat's car. Despite only being five-foot-eight, Tommy still had to keep his head ducked down to avoid bashing his skull against the roof. He also used it as more excuse to snuggle down closer to Gill. But, hey—not my fault the girl drives a Fiat!
"Sorry it's such close quarters guys. The car was a graduation gift from my grandparents. I wouldn't have picked it, but who says no to a free car, right?" Kat caught Tommy's eye in the rearview mirror and winked. Yeah. Definitely not his girlfriend. Tommy didn't get the feeling she was upset about his crawling all over Gill. Potential matchmaker, maybe? "Luckily the campground isn't that far, so you won't have to suffer long."
"I don't mind. Really." Tommy wriggled slightly and rested his fingers at the back of Gill's neck. It couldn't be classed as a grope. He still wasn't a hundred percent sure if that would even be welcomed. But it was a touch, and a delicate one at that. And it was enough for Tommy to feel the shiver that it elicited from Gill.
"Sorry, Gill. Hope I'm not crushing you."
"Oh. No. You're fine." Gill's voice was low and slightly hitched. His glasses had started to creep down his nose and Tommy reached up, without thinking, to adjust them.
"Don't want to lose those." They were so close that, had it been a colder night, Tommy's breath would have fogged Gill's lenses. And, fuck, didn't that send indecent thoughts straight to his groin. Images of fogging up the car windows with Gill or, to be precise, images of what they might be doing in order to cause said situation, sent a message straight to Tommy's dick. He fidgeted slightly, not wanting to reach down and adjust the hard-on he'd hoped he could keep at bay.
He was about to fidget again when the sound of Gill clearing his throat distracted him slightly from the problem at hand. And alerted him to another. Of course, describing the feeling of Gill's answering erection under his ass as a problem couldn't have been further from wrong. Gloriously, heroically magnificent, perhaps. But not a problem.
Tommy turned slightly to make eye contact with Gill but found the other man uncomfortably looking in the other direction. He twisted slightly, making sure his ass did a slow grind into Gill's crotch as he did so. Yep. That got his attention.