I've got Gale Stanley here today to tell us a bit about her latest Romance on the Go™ from Evernight Publishing, Bad Teddy Bear. Take it away, Gale!
✽✽✽
Writers get ideas in so many different ways. The plot for BAD TEDDY BEAR came to me while watching a football game. Of course, I missed all the good plays because most of the action was going on inside my head. And now here it is in an ebook.
Bad Teddy Bear by Gale Stanley
Available: July 13, 2016
Publisher: Evernight Publishing
ISBN: 978-1-77233-923-9
Down and dirty sex. That's the name of the game for Theodore West.
They still call him Bear, even though his days in pro ball are over. Plenty of men are still anxious to be topped by the Bear and he's happy to oblige as long as his partner understands the rules. No strings and no repeats.
Bear could win an academy award for his alpha-player performance, but in reality, he'd love to give up control. He's a big man who likes the idea of being topped by a twink. In college, he found the perfect lover, but he dumped him rather than risk tarnishing his image. When Finn shows up, he turns Bear's world upside-down. But, can the Bad Teddy Bear finally accept his submissive side?
Excerpt:
The musky scent of sex filled Bear's nostrils. Revved up, he pounded away at the man under him. Each forceful thrust brought a grunt from Bear and an answering groan from Jack… Whatshisname?
"Gotta come. Bear, please."
Bear was close too. He reached around and fisted Jack's dick. He started pumping—
"Fuck." Jack's balls drew up tight and he soaked the mattress with his cum.
Bear followed. A few seconds later, he pulled out and rose on his knees to remove the condom. Drained, he lay on his back panting, and ran a hand through the damp matted hair on his chest. Before Bear could protest, Jack leaned over and planted a sloppy kiss on his lips.
What the fuck!
Smooching might be fun for some guys but Bear considered it a sexual speed bump. Something to be tolerated in order to get to the good stuff. Well the good stuff was over and Bear wasn't interested in lovey-dovey bullshit. Sure, he had feelings, but they were all below his waist. Sex was a biological urge like being thirsty or taking a piss. Once he satisfied an urge, he was done. End of story.
Jack snuggled against his body. "That was great, Bear. When I recognized you at the minimart, I never thought I'd end up getting fucked by the Big Bad Bear."
"Guess this was your lucky day."
"I'll never forget that play you made right before you got injured. You could have been one of the greats."
For crying out loud. Bear didn't need the reminder. He could replay every second of that night in his head.
"But you're still built like a brick house. Hot. As. Hell. Blah, blah, blah…"
Jack's words were a low, insistent drone in Bear's ear, like a bunch of honeybees buzzing around his head. He tuned them out, grunted and sat up. Pillow talk bored him. Careful of his aching knees, he swung his legs over the side of the bed.
"Hey. You don't have to go. Stay. I'll order a pizza."
Bear stood up and finger combed his shaggy brown mane. He never spent the night. Just like he never brought a hookup back to his place. Even if he didn't work nights, and have the old man to worry about, he wouldn't do a sleepover. What was the point? He got what he came for. His sexual tension had been relieved and he felt good. Why spoil it with a cuddle. Cuddlers were space invaders and intimacy made a guy vulnerable.
Bear picked up his clothes. "Gotta go to work."
"Where? Call me—"
Bear slammed the bedroom door behind him and struggled into his jeans. Jack didn't follow. Guess he finally got the idea. Jack knew what he was getting. Or not getting. Bear always laid down the ground rules before hooking up. No long-term relationships. Some guys thought a good fuck would change everything. Ahh, sorry Jack. It wasn't that good. Not for me, anyway.
Bear gripped his car keys and left Jack's apartment. He had just enough time to stop home, shower, and put the old man to bed.
Where to Buy:
✽ Amazon
✽ ARe
✽ Bookstrand
✽ Evernight Publishing
About the Author: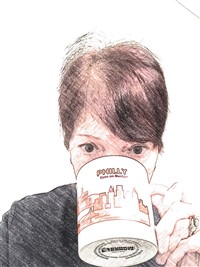 Gale Stanley grew up in Philadelphia PA. She was the kid who always had her nose in a book, her head in the clouds, and her hands on a pad and pencil.
Some things never change.
Website | Blog | Twitter | FaceBook | Instagram | Pinterest