Okay, you guys… far be it for me to speak hyperbolically, but this giveaway is MASSIVE. Seriously. I'm talking 80+ authors strong. This really is one Big Gay Fiction Giveaway!

From now until November 27, novels, novellas, short stories, even sample chapters from soon-to-be-published titles are on offer – all totally FREE.
And I promise you, this isn't a bait and switch, and nobody is asking for your credit card number (seriously, don't give anyone your credit card deets.) So what's the catch? No catch. All you have to do is sign up for each author's newsletter. And while we all hope you'll stick around, you're absolutely free to unsubscribe after the fact.
The Big Gay Fiction Giveaway is just a bunch of like-minded authors, under the incredible (and I suspect, somewhat insane by now) organizational skills of Michael Jensen and Jeff Adams, who have banded together to help promote… well, ourselves. So you get to enjoy a selection of the finest gay and bisexual historical fiction, literary fiction, new adult fiction, science fiction and fantasy, as well as traditional and paranormal romance, all free for a limited time.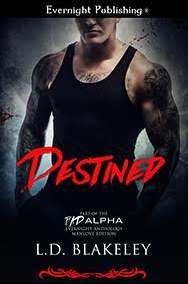 I'm offering up my paranormal short story, Destined, part of Evernight Publishing's Bad Alpha: Manlove anthology:
Caleb Stokes has had a shit night. Too bad catching his boyfriend in flagrante delicto with the club DJ isn't the worst thing he'll witness before the night is through.
Marick Gevrees has no time for romance. He has even less time for a tipsy twink looking for a man to fill some Daddy fetish. But what the hell is he supposed to do when said twink wanders head-long into the middle of a bloody vendetta that could result in the exposure of his clan?
But my contribution is just one of the dozens of books on offer. There are close to 100 fantastic reads for you to devour. So what are you waiting for? Head on over and stock up on some amazing FREE reads!