Roll out the Red Carpet: Evernight celebrates four years of publishing!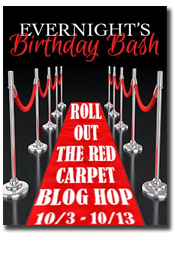 Join authors, bloggers and reviewers as we take a RED CARPET tour featuring Evernight's smart and sexy books. Slip on your virtual stilettos and walk the red carpet of award-winning titles, spectacular reviews, and paparazzi style interviews.
Be sure to visit every stop on the tour where you can enter for a chance to win great prizes, including a new eReader, gift certificates, swag, books and much more!

Don't forget to visit the Evernight Publishing website where all eBooks are 50% off through October 13!

Now I turn the spotlight on my smart and sexy soon-to-be-released title, Judging a Book by its Cover!
I'm spankin-new to the Evernight family, but I'm so excited to be part of such a great group of people. I've even more excited to be able to share with you all a wee bit from my upcoming release…
Coming soon from Evernight Publishing's Romance on the Go™ series:

Judging a Book by its Cover by L.D. Blakeley
Agonizingly shy Emory North has his life mapped out for him: finish his business degree, go to work for his father, and one day take over as CEO of North Star Publishing. More at home amongst stacks of books, Emory has little to no interest in his lot as 'North Jr.', but has never had the courage to follow his true passion – writing.
Brash and ballsy Bryce Palmer, editor-in-chief of ECLIPSE magazine is known for bedding and discarding PAs like yesterday's newspaper. He's up against a serious deadline and down two staff members. And the last thing he has time for is babysitting the spoiled rich son of a CEO. But when Pierce Barclay North insists now is the time for his heir apparent to get his feet wet in the company waters, Palmer's hands are tied.
But looks can be deceiving. And, sometimes, passion can spark in the most unlikely of places…

Be sure to answer my question in the comment section for a chance to win:

✽ Your choice of an Amazon Kindle Fire HD or Kobo Arc 7
✽ $100 Amazon gift card
✽ $50 Evernight gift card
✽ MY BLOG PRIZE: $5 Amazon gift card + a copy of Judging a Book by Its Cover upon its release!
(be sure to include your email address!)
QUESTION: 
How many lovely bloggers are participating in this fabulous Evernight Birthday Bash Blog Hop?