Muscling In is award winning author Lily Harlem's latest release. It's a hot and sexy MMF novel with a military theme and delves into the desires and passions of a threesome who are determined to be together despite the restraints of the world they live in.
The story is set in London and follows tattoo artist Sian as she decides to let her husband Coben rekindle a relationship he's had with a man from his past. This man, Ed, is still serving in the Royal Air Force, he's the elite of the elite, the best of the best – it's going to get complicated. And there is of course one condition from Sian, she wants to be part of the fun too. Why should she miss out when they're having an amazing naked and sweaty time?
Muscling In by Lily Harlem



Available: October 25, 2015
Publisher: Evernight Publishing
ISBN: 978-1-77233-558-3
My husband has a secret. Desires he's kept locked away in a deep, dark place.
Determined to pry details of this forbidden longing, I had no idea how much this new side of him would turn me on. So when I met the object of his lust I couldn't let it rest.
Edward Moorland was a force to be reckoned with, a man who fought for his country and what he wanted. But did he want me and my husband? Would I ever experience his passion let loose or would I remain on the sidelines, watching, waiting, hoping?
One thing I knew, I wasn't the type of girl to give in without a fight. I wanted to be part of the action too. More than part of it, I wanted to be in the goddamn middle of it with bells, whistles and fireworks when it all exploded. Yes…I wanted it all.
Excerpt:
"Where is your husband? You forget to bring him?" A cheeky smirk crossed Ed's face.
"He's just catching up with Harold about something, business stuff, you know."

"Oh, what's he do for a living, then?"
"Cyber security, Middle East is his speciality."
Ed's eyebrows raised slightly. "Sounds interesting."
"It keeps him very busy."
A noise in the hall caught my attention and I turned. The click of shoes on the floor grew louder. Coben appeared in the doorway.
He stopped and scanned the room. His gaze settled briefly on me, then flicked to Ed.
His mouth slackened for a second before squeezing into a straight line. He kept his attention firmly on the man at my side.
Harold stepped past him and up to the drinks cabinet. "Coben, old fellow, what are you drinking?"
Coben said nothing. It was as if he'd been rooted to the floor. His eyes flashed and his hands curled into fists.
What the hell is the matter with him?
"Coben? Drink?" Harold repeated.
"Er…Scotch." His voice was hoarse. "Please. If you have one." He pushed his shoulders down and tilted his chin. He looked a little paler than he had earlier.
"Coben," I said, hoping he wasn't coming down with something. "Come and meet Harold and Mable's godson. Ed Moorland."
Coben accepted the drink Harold passed him and took a large gulp. He walked up to me.
I reached for his hand. His fingers were cool, his palm a little clammy. Perhaps the talk with Harold hadn't gone according to plan.
Still he stared at Ed.
Ed stared right on back.
"Funny thing is…" I started, trying to fill in a weird silence that had descended and wondering why the air felt like it had an electric current running through it. "I actually met Ed today. What a coincidence, eh?"
"You met him?" Coben dragged his attention from Ed to me. "What? How?" He narrowed his eyes.
Why is he being so rude?
"He came into Dragon's Ink. He was a client." I tried to keep the irritation out of my tone. "I added a bird to his half-leg tat."
"Nice to meet you." Ed held out his hand to Coben. His voice was tense.
Coben took it, shook very briefly, then shoved his hand into his trouser pocket. "She tattooed you?" He paused. "My wife."
"Yes. Your wife." Ed knocked back the last of his drink. He swept his tongue over his bottom lip and narrowed his eyes. "She's very good."
"I know." Coben mimicked Ed by finishing his freshly poured Scotch in one go. He shifted forward and back as though wondering whether to sit or not—or maybe leave the room.
"I'll be back in a moment." Harold raised a large glass of red into the air. "Best just check the boss is okay in the kitchen."
"Sure." I smiled his way. It was a false smile because something was going on. I had no idea what but I'd never seen Coben so twitchy.
"Ed is in the military," I said, tucking my loose strands of hair behind my ears.
"Oh yeah?" Coben tilted his chin.
"Yep." Ed turned away and headed to the drinks cabinet. "Don't ask me about it, though."
"He can't tell you," I said. "It's top secret."
Coben kind of grunted.
I poked him in the ribs. "What's the matter?" I mouthed, frowning.
"Nothing." He clenched his jaw and a tendon jumped in his cheek.
Ed poured himself another drink. As he turned back to us, Mable appeared. "Ah, here you all are," she said, holding out her hands. She came up to me and kissed my cheek. "Sian, you look beautiful."
"Thank you." I smiled. "So do you."
"Coben, thank you so much for coming this evening." She angled her face toward him.
"My pleasure." He politely touched his lips to her cheek.
I glanced at Ed. He was staring at Coben. Two lines plowed across his forehead and he was breathing deep, his shirt tightening over his broad chest.
I'd never known Coben to be anything other than perfectly polite and controlled when we'd been out, so this reaction to Ed was weird. But it seemed Coben had a strange effect on Ed too—I just didn't understand what.
Where to Buy:
✽  Amazon
✽  Amazon UK
✽  Evernight Publishing
About the Author: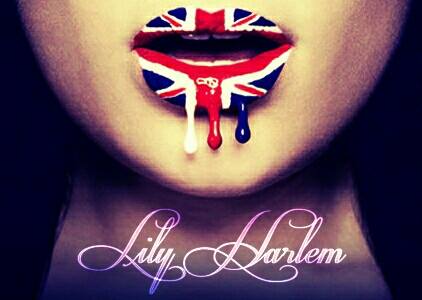 Lily Harlem lives in the UK and is an award-winning author of contemporary erotic romance. She writes for publishers on both sides of the Atlantic including HarperCollins, Totally Bound, Pride Publishing, Evernight Publishing, Xcite, and Sweetmeats Press. Her work regularly receives high praise and industry nominations.
Before turning her hand to writing Lily Harlem worked as a trauma nurse and her latest HarperCollins release, Confessions of a Naughty Night Nurse draws on her many experiences while nursing in London. Lily also self-publishes and The Silk Tie, The Glass Knot,  In Expert Hands and Scored have been blessed with many 5* reviews since their release.
Lily writes MF, MM and ménage a trois, her books regularly hit the #1 spot on Amazon Best Seller lists and Breathe You In was named a USA Today Reviewer's Recommended Read of 2014. Her latest MM novel is Dark Warrior.
Lily also co-authors with Natalie Dae and publishes under the name Harlem Dae – check out the Sexy as Hell Box Set available exclusively on Amazon – The Novice, The Player and The Vixen – and That Filthy Book which has been hailed as a novel 'every woman should read'.
One thing you can be sure of, whatever book you pick up by Ms Harlem, is it will be wildly romantic and down-and-dirty sexy. Enjoy!
Find Lily online
Website
Blog
Twitter
Facebook
Facebook author page
Pinterest
Raw Talent
BritBabes
Newsletter Subscription
Google+
Harlem Dae
Goodreads