Please welcome my guest today, the lovely Katerina Ross with her brand new release, Soul Infection.  🙂
✽✽✽
Thanks for having me on your blog today! I'm happy to share my new release with you. "Soul Infection", book one in "The Sons of Gomorrah" series, is a paranormal M/M novella set in Prague. I've always wondered how magic works and why magicians have to learn spells instead of just saying, "Let it rain!" or "Let this evil guy stumble into a pool with crocodiles!" There are so many fantasy books, yet nowhere I could find any believable explanations, so I had to invent a plausible theory myself! I've had the idea for this story for years, literally, but it lacked something. Now I know – it lacked sex 😉 This shortcoming was fixed, and the final version of "Soul Infection" features not only a freelance magician, but a shameless incubus.
Soul Infection (The Sons of Gomorrah #1) by Katerina Ross
Available: August 2, 2017
Publisher: Evernight Publishing
ISBN: 978-1-77339-360-5
Tristan Todorov, formerly one of the best scholars at the legendary and sinister Scholomance school of magic, was cast out and now travels alone through Eastern Europe offering discreet services as an unlicensed magician. In a luxurious hotel in Prague where he's been invited to investigate a suspicious series of suicides, he's about to meet someone who will make him remember the darkest secret of his past.
Will a night of lust soothe Tristan—or will it stir up something evil and dangerous, something he's tried so desperately to forget?
[
Read an excerpt
]
Where To Buy:
✽ Amazon
✽ Evernight Publishing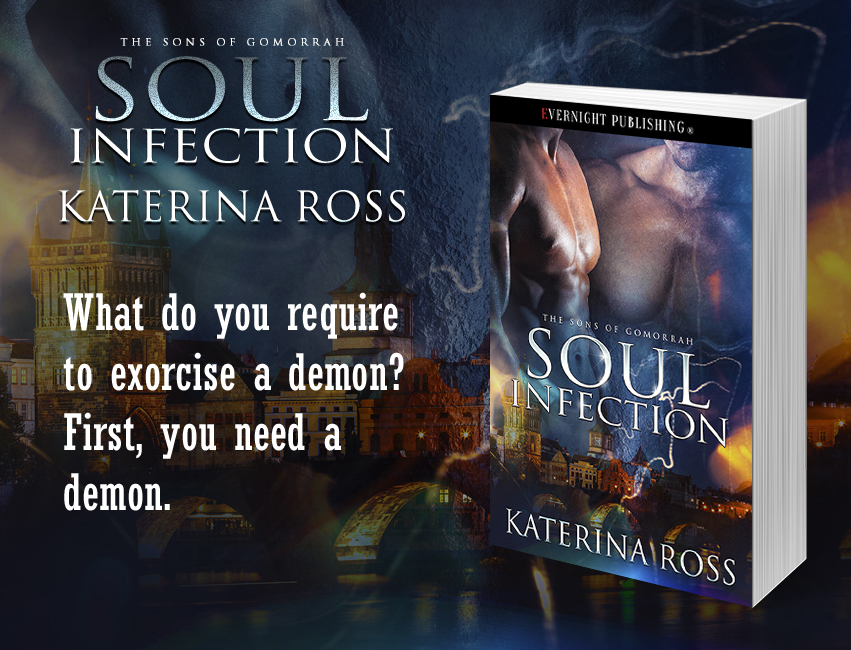 Excerpt:
Jarek slid off the bed, the coverlet still loosely draped over his shoulders and trailing behind him like a king's cloak. In the gap between the folds, Tristan could see everything he wanted to.
"Don't move," Jarek told him softly. "Keep your hands to your sides."
And Tristan obeyed.
"Interesting," Jarek mused, trailing a finger along his collarbone.
Tristan sucked in a deep shuddering breath, but stayed still. It felt odd, letting this happen. Jarek slipped his hand lower, casually brushed it across Tristan's perked nipple on the way, and then traced a path down his chest and over the muscles of his abdomen. Tristan's abs went taut at the feather light touch, and Jarek laughed quietly.
"Sensitive." He stated the obvious. He let the coverlet slip from his shoulders—an effortlessly seductive gesture, probably well-practiced. A slow, crooked smile made the expression on Jarek's face all the more lascivious, which was most certainly the intention. "I think I know what you need."
Tristan looked down pointedly and then up, with a hint of sarcasm. "Well, that's kind of apparent."
He still felt nervous, but not as much as when he'd thought of being pitied or rejected.
Jarek quirked an eyebrow at him. "Is it? Hmm. We'll definitely come to that, but why rush things? I'm here to take care of your wishes, even the ones you're not sure you have. Why not try something new, something unusual?" He leaned in, very close, and Tristan felt Jarek's warm breath on his lips when he whispered, "Just let me take control for a while, and you'll see how good I can make you feel."
The next moment, Jarek backed off, to Tristan's disappointment, but maintained eye contact, and Tristan felt unable to look away, as if mesmerized. The tips of Jarek's fingers now rested lightly on his hipbones, almost where Tristan wanted them most but not moving closer.
"Say yes," Jarek coaxed him in a low voice. "Say you give in to me tonight. It's easy, giving in."
"Yes," Tristan breathed out, not sure what he's agreeing to and not caring in the least.
About The Author:
Katerina Ross lives in Russia and works as a journalist. There are no M/M romance publishers in her country at all, so she writes hot M/M stories in English. Find her online: Facebook | Tumblr