May 17 is the International Day Against Homophobia, Transphobia & Biphobia.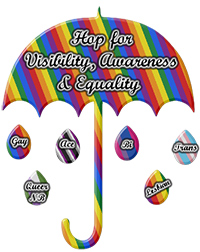 Thanks for taking a few minutes out of your day to stop by. I'm proud to be participating in this year's Hop for Visibility Awareness and Equality.
I don't have a personal story to tell like many of the other folks taking part in this blog hop. And I'll be right up front and admit I've lived my entire life under the auspices of white, Canadian, cis, hetero privilege.
But I've been waving my ally flag for decades.
My friend, Jody, came out in a blinding, rainbow-coloured flame when we were in high school. Actually, if I'm being perfectly honest, I don't think he was ever IN. Now, you're probably thinking, "Big deal. Tons of kids come out in high school."
And you're right. They do. Now. But back in 1986? Not so much. It was still perfectly "acceptable" (and, yes, I'm rolling my eyes at that) to hurl all manner of hateful slur and insult (never mind the more violent end of the spectrum) at anyone who might even be suspected of fitting somewhere under the umbrella.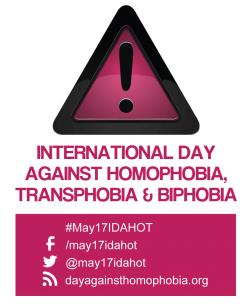 Gay-straight alliances weren't a thing. So I became an ally. Because it was the only thing that made sense. And because I didn't understand why my friend wasn't allowed to be with whomever the hell he chose (especially when there were far more important issues to address: like the kids who insisted on wearing dayglo and acid-washed denim. But I digress.) I didn't know at the time that's what I'd become. I'm pretty sure the term ally wasn't even a thing. Nevertheless, Teenaged Me became a staunch supporter of equality. And through the years, that support has never wavered.
Fast forward to 2005 (the same year Canada made marriage equality federal law, incidentally; it had already been made provincial law in Ontario two years prior) and the release of Brokeback Mountain (yes, I'll admit, I saw the movie before I read the short story). After I recovered from the Cry Hangover (it's a thing) I suffered at the hands of that bit of cinematic heartbreak, I had one burning question: Where were the LGBT love stories with a Happily Ever After? Surely they must exist. They did. Of course, they did. But not in the easily accessible way that straight romance did. You really had to search for it.

Happily, that's not so much the case now. Stories about men and women from every walk of life and every point of light on the rainbow can be one-clicked onto our eReaders 24-7.  From anywhere in the world… including countries where anything other than cisgender heterosexuality is still punishable by death. DEATH. Let that sink in.
I realize that the stories I write are just fiction. And I realize that they aren't a symbol of the fight for social justice. They're love stories. Full stop. But the thought that one of them might fall into the hands of somebody forced to live in fear and in the closet, and give them a moment or two of escape? That's the thought that keeps me writing. 

Thanks for reading. And if you leave a comment, your name will go into a draw (at the end of the Hop; May 25) for an eBook copy of one of my titles (winner's choice) and a $25 donation in your name to Toronto PFLAG. If you have the means, might I suggest you make a donation to them (or your local chapter) as well?
How can you support #IDAHOT2016 in Canada? Check out our events page now @pflagcanada @PrideToronto @HollabackOttawa https://t.co/ALBQEzn0tx

— IDAHOT (@may17IDAHOT) May 16, 2016

Be sure to check out the other stops along the hop!