Good afternoon lovely readers! Today I've got a spicy new Regency title to tell you about from Peri Elizabeth Scott. The Fall That Kills is her lastest from Evernight Publishing, and it's available now!
The Fall That Kills by Peri Elizabeth Scott
Available: March 25, 2021
Publisher: Evernight Publishing
ISBN: 978-0-3695-0325-1
Rayne St. Cyr, Marquess of Seaford, is resigned to marry and produce heirs. He then learns his bride is partaking of a Season, arranged by her father, the Baron, to force his hand. His honor impugned, the secret behind the arranged marriage additionally fuels his ire.
Believing Lady Emma to be no different than her odious father, St. Cyr hatches a nefarious plan: quickly marry and seclude her, visiting only to beget those heirs.
Lady Emma Newmark is kind and caring, though at the mercy of her widowed father. Now, rushed into marriage, isolated in a ruined castle with a man who exudes contempt—yet draws her all the same—she despairs.
Spurned and humiliated, left with servants who apparently plot her demise, she runs away, preferring to choose her fate.
Rayne comes to his senses and saves her, but can a new plan gain her forgiveness—and love?
Where to Buy:
Amazon
Barnes & Noble
Evernight Publishing
Kobo
Siren
Excerpt:
Hysteria nibbled around the edges of her current forced calm.
"My lady."
There it was, her name forgotten. Again. Good, the more formal, the better.
"Emma."
She started. He was prescient. She was doomed. Cautiously looking his way, she said, "My lord?"
He was staring, his amber eyes darkened, his chin propped on steepled fingers, and she couldn't look away. He said, "When we are alone, I'd prefer you call me Rayne. I realize I hadn't given you leave before, just as I now presume to call you Emma, but—"
She was shaking her head, seemingly unable to stop the motion. Was she to have given permission first? Was that what he was inferring? That she was at fault? Again? Exhaustion swatted at her like a horse's tail on a fly.
Then some imp from childhood overtook her, and she spoke without censoring herself, her speech taking on a life of its own, forgetting her vulnerability. "Not once did you indicate a need for familiarity, St. Cyr. Nor did you invite it. Your reserve, your very formality, a certain rudeness, to be frank, clarified our respective roles. You'd already judged me and held me to my father's standards. You hate me! Hold me in contempt! And brought me here where I would be forgotten until you … until you could send word to … do away with me. All that nonsense about heirs, seducing me—it was all prevarication and, and lust. When all I wanted, all I coveted, was a child. Ch … children. And what I nearly did…"
Aware her voice had risen and then broken on the last of her tirade, Emma caught up a patched napkin and pressed it to her mouth, aghast. The broth scalded up her throat, and she choked, watching her husband's face. The bronzed skin was ashen, and what could only be horror painted lines and shadows across his handsome features.
He shoved to his feet, and she mirrored him, somehow avoiding his grasp, her feet screaming with pain but not deterring her in a headlong rush to somewhere, anywhere. There was no need for further games and fake sensibilities now. She'd doomed herself, and terror gave her wings.
It wasn't enough. St. Cyr's longer legs cut the distance, and he swept her up, ignoring her pitiful struggles, and carried her up the stairs. Mrs. Murrow's and Floyd's startled visages flitted across her peripheral vision, and then she swooned.
About the Author: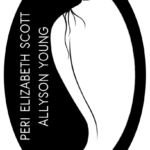 Peri Elizabeth Scott aka Allyson Young lives in cottage country, Manitoba, Canada where she and her husband pretend to work well together in their seasonal business.
She has always enjoyed the written word, and after reading an erotic romance, quite by mistake, decided to try her hand at penning one. That was followed by a mix of spicy (Ally) and sweet (Peribeth) romances in various genres as well as a post-apocalyptic adventure without a lick of romance by Peribeth.
A bestselling Amazon author, a hybrid, and a coauthor, as of January 2021 she has published seven series and more than a dozen standalones, with others in the works.
Website | Facebook | Contact: peribeth@hotmail.ca