Happy Valentine's Day, everyone! I've got Gale Stanley on the blog today with her latest release, Jaegar. Check it out!
♥♥♥
Jaegar is book 4 in the Hybrids series. They're best read in order, but if you haven't read the others, there's enough backstory here to get you up to date.
Jaegar (Hybrids #4) by Gale Stanley
Available: February 6, 2016
Publisher: Siren Bookstrand
ISBN 978-1-68295-831-5
Panty-melting rocker Jaegar Nash is really a hybrid passing as human. Then, he falls for his bodyguard and discovers a jaguar can't hide its spots.
Sexy Israeli bodyguard Abram Galante can't resist his attraction to Jaegar, but when he finally makes his move, he puts them both in danger.
When the existence of hybrids was exposed to the world, their creator, Dr. Joseph Shepard, fled to Russia. Now, he's back in the States and working for Brian Abbot, CEO of a biotech company. With the fear of terrorism so widespread, Shepard and Abbot know the timing is right to create a new army of super soldiers.
And they plan to start with Jaegar Nash.
[
Read an excerpt
]
Where to Buy: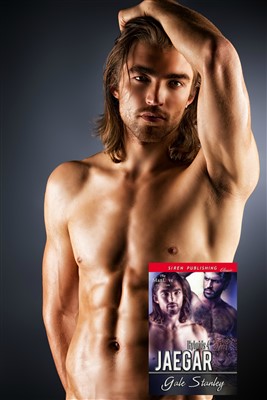 Excerpt:
Jaegar knew he should throw Bram out of his room, the man could be a bounty hunter in disguise, but lust was the enemy of reason. He wanted Bram. Wanted him bad. And he could rationalize it easily. Keep your friends close, and your enemies closer. It was crucial to find out exactly what Bram knew, and it might be even more important to learn his strengths and weaknesses. That knowledge could be critical to Jaegar's survival. "Maybe you're right, Bram."
"I know I am. I love my job, but my life has been all work and no play. I always thought if I took a risk the sky would fall.
"And what if it does?"
"I think it might be worth it." Bram leaned in as if he were about to—
Jaegar was totally shocked by the kiss. He'd fantasized about Bram for months, but in his dreams Bram's lips were always on his cock. He never imagined how warm and soft Bram's lips would feel against his. Seconds later, Bram took the heat level up a notch. His tongue pressed for entrance, and Jaegar opened his mouth with a low purr. Electricity sparked in the air. The world shifted. Everything changed. It was terrifying and beautiful at the same time.  No other act had ever felt so intimate. Bram pulled him closer and deepened the kiss as if he wanted to swallow Jaegar whole. All rational thought disappeared. Only feelings and sensations remained. Jaegar needed to touch Bram. He slipped his hands under Bram's shirt and gripped his strong back, moaning at the contact.
The kiss went on and on. Jaegar never wanted it to end, but finally they came apart. Bram rested his forehead against Jaegar's and they both inhaled deeply.
Jaegar wasn't prepared for these feelings. He had no idea a kiss could feel so sensuous and intimate. "Bram?"
"I know. I feel the same." Bram sat back. "Can I stay?"
Way past the point of saying no, Jaegar nodded. Bram stood and started removing his clothes. Jaegar watched for a few seconds, and then got up to close the drapes. The room was dim, but not dim enough to hide the feral features that became more pronounced in the heat of passion. Jaegar's eyes would intensify to a unique shade of amber and his pupils turned into slits. Few had ever noticed, but Jaegar had a ready excuse. He explained it away by saying he had coloboma, a congenital defect in humans. Trying to hide his subtle differences had become second nature. He climbed onto the bed and assumed the position.
Bram chuckled. "Does this mean you want me to top?"
"You said you wanted to fuck me."
"Oh, yeah. I want to fuck you until you can't stand, but what do you want?"
Jaegar inhaled slowly, impatient to feel the big man mount him. He was pleased that Bram gave him a choice, but his ass clenched with the desire to be filled. "Fuck me, Bram."
"My pleasure."
About the Author: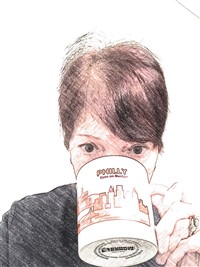 Gale Stanley grew up in Philadelphia PA. She was the kid who always had her nose in a book, her head in the clouds, and her hands on a pad and pencil.
Some things never change.