Happy Monday! I'm here with another new release from the lovely Maia Dylan. Iis now available as part of Evernight Publishing's Romance on the Go® line and, as always, Maia invites you to tweet her – @Maiadylanauthor – with any questions you might have and she'll answer you asap. 🙂
One Last Hit by Maia Dylan
Available: February 6, 2018
Publisher: Evernight Publishing
ISBN: 978-1-77339-569-2
Aaron George thought he'd lost the love of his life seven years ago. Right up until he pulled back the curtain of a hospital examination room and found Marshall Armstrong tending to a bullet wound on the other side. Then the night got really strange. They found themselves getting shot at and running for their lives.
Marshall Armstrong had finally come for Aaron. He'd been working toward it from the moment he'd had to fake his own death. Now, just when he had enough money and resources to take Aaron back, Aaron's father, Franklin George knew his son was alive and that Marshall had a few secrets of his own.
Can Marshall and Aaron get back together as they work to make this one last hit before they disappear forever, or will their shot go wide and leave them with nothing?
[
Read an excerpt
]
Where to Buy:
✽ Amazon AU
✽ Amazon CA
✽ Amazon UK
✽ Amazon US
✽ Evernight Publishing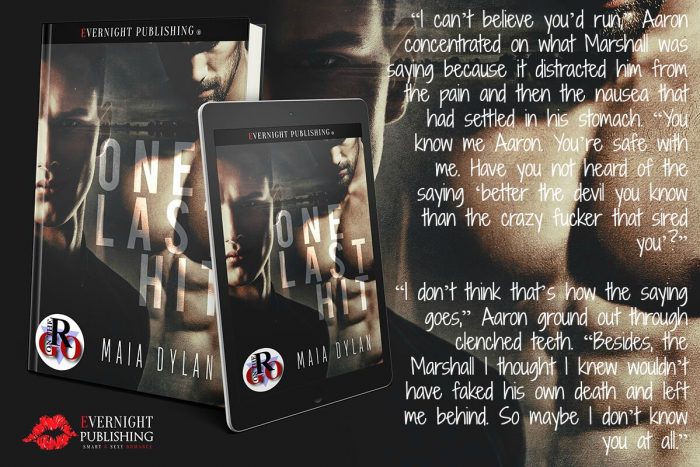 Excerpt:
Aaron growled. "Maybe I've gotten better at lying now. I'm way more secretive than I was when you knew me. Everyone thought I was dead. I left the day of the explosion with nothing but our emergency pack. No one knew I was here living my life until recently."
"I've always known where you were," Marshall answered honestly. "You took the identity I'd had created for you, so I knew where to find you from the moment you left."
"Then why the hell didn't you come to me sooner?" Aaron asked in a small voice.
Marshall reached out, wanting to touch him, to ease his pain, but stopped short when Aaron flinched away from him. Not that he could blame him for the reaction at all.
"Franklin is powerful and determined to make the damn Senate. If he had known you were alive earlier, he would have killed you just to tidy up that loose end. He couldn't have his own son coming out and telling the world what an asshole he is. Aaron, even when I knew I shouldn't, I kept up with what you were doing. I've fucking stalked you from afar for years. What existed between us was real."
Aaron's gaze swung to him. "Really? Because I loved you with everything I had and losing you destroyed who I was. Flames were lifting into the air, and gas bottles were exploding and all I could think about was walking straight into that burning building so that I could go with you."
Marshall's heart broke at that. "Baby. I am so sorry I had to put you through that. But I had to get you away from Franklin and I knew you wouldn't go without me. Franklin wasn't going to let me go, Aaron. I was an asset he had no desire to lose. If we had run together, he would have come after us with everything he had. I knew that the only reason you would go by yourself is if you thought I was dead."
Aaron frowned. "Why couldn't we have just left together? If he was convinced that I died in that fire, why wouldn't he accept it was both of us? Damn it, Marshall I managed to leave that day and no one came looking for me for seven years! I started a new life and fought for a chance to live it. Why couldn't we have done that together?"
Marshall took a deep breath. He'd known this conversation had to happen, but he hadn't expected it to be so soon. "He was going to take you away that night, Marshall. He was going to take you from me and use you to control me. Every option I looked at to save you resulted in you being hurt or killed. I was too young, I had very little experience with everything, and I panicked. Making it look like the explosion killed you was the only option I came up with that got you away from him."
"Why the hell did you stay?" He could hear anger in Aaron's voice. "You could have gotten away from him at any time."
Self-loathing threatened to drown him. "I had to make sure you remained safe. And without you, I just stopped caring about anything else. Your father claimed your life insurance, had a funeral, and publically mourned your death. And I did it all with a happy heart because I knew that you were alive and that you were free."
"But what about you, Marshall," Aaron asked quietly, "weren't you worth saving, too?"
Marshall turned to look out at the road ahead. "I may have been then, but everything I have done since, what your father has turned me into, all of it makes me beyond salvation now.
Aaron made a dismissive sound. "That's bullshit. No one is so far gone that they can't be saved, either from my father or themselves. You've already said that a lot of what you have had to do over the years was at the bequest of Franklin George. It sounds to me that the fault lies with him, not you."
"But it was me pulling the trigger all those years, Aaron, and not always at Franklin's request," Marshall answered, turning to give him a sad look. "It's me that took money from your father and others to kill the people they most needed eliminated from their lives. And it's me who has to somehow reconcile everything that I have done since I left you seven years ago so that I can sleep at night," Marshall took a moment trying to find the words that would explain it. "You could say this is about vengeance with a strong dose of penance for me and that would be a lot closer to the truth, but it would certainly not grant me absolution."
© MAIA DYLAN, EVERNIGHT PUBLISHING, 2018
About the Author:
Mother, wife, author, and all around crazy…
I write the kind of books that I love to read. Love stories between strong men and their independent soulmates. Usually, their path to Happily Ever After is a bumpy one, but there is always a Happy Ever After.
In the world's I create there is someone (or two, or three) for everyone!  Love comes in many forms and I believe it is all beautiful and should be celebrated!
I live, love and write in New Zealand, married to my husband of eleven years with two beautiful children who I truly believe were sent as a blessing, but sometimes to try my patience, and I wouldn't have it any other way!
Social Media Links:
Publisher's Author Page | Amazon Author Page US | Facebook | Facebook Author Page | Street Team FB Page | Goodreads | Twitter | Website | Blog | Pinterest