Got a Uniform Fetish? Then come on in and have a seat!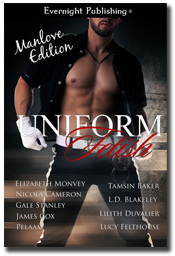 When the call for submissions was announced for Evernight Publishing's Uniform Fetish: Manlove Edition, I wasn't sure I had anything to offer to the hot-men-in-uniform trope. I mean, sure, we all love the sight of a shirtless G.I. doing pull ups, a crisply pressed pilot's uniform, or a buff fire-fighter partially clad in turnout gear. And who doesn't dream of mussing up a man in perfectly starched sailor's whites? Or dream of two sexy cops and what they might get up to with those handcuffs… wait, I was going somewhere with this. Honest.
Right! Subject matter. I didn't think I had anything interesting or new to add to the plethora of original & ungodly hot stories already being submitted. Until I saw this: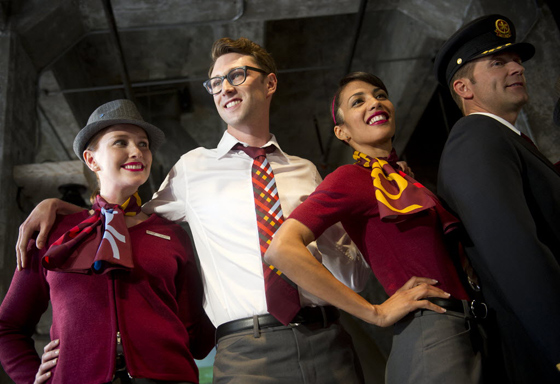 Nope. Not the sexy, dimpled pilot on the right (not that he isn't worthy of a torrid tale or two of his own.) I'm talking about the sweet young thang in the thick glasses and the god-awful tie.
Then, with a bit of digging, I found this: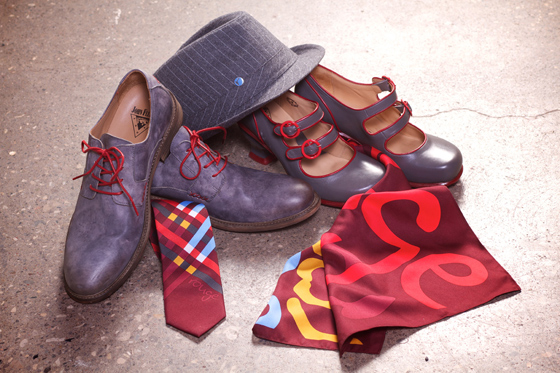 I mean, I understand that the shoes are Fluevog (that alone, is enough to cause a racing pulse) but, seriously, what was Air Canada Rouge thinking when they introduced these new flight attendant uniforms? They really are terrible. Then it hit me: who says a uniform fetish has to necessarily come from a traditional, or even attractive, uniform? What if the uniform in question is the exact antithesis of what might be considered 'hot' but is what catches the eye in the first place? What if the person under the garish uniform manages to spark a scorching flame in spite of what he's wearing?
And that was when Desmond 'Des' Triggs sprang to life. On the surface, Des appears a bit shy and reserved. Some might even say he leans slightly toward socially awkward. But we all know better than to assume a person's personality based on their outward appearance, now, don't we?
In Mile High Rebound we meet photographer Will Donavan, who's about to jet off to his sister's wedding in beautiful Barbados. Sadly, for Will, what should have been a fantastic day, skids rapidly into levels of craptasticness he never could have imagined. But with a little help from a beautiful boy in bad clothing, a wretched tie, and some helpful co-workers… Will's day might not end on the same terrible note with which it began.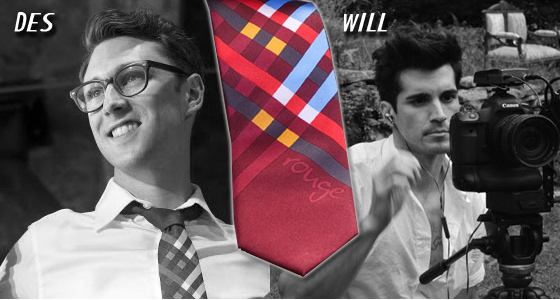 Mile High Rebound Excerpt:
"Your double scotch on the rocks, sir."
Whoa. That most definitely was not the voice of the perky blonde girl who took my order. I opened my eyes slowly, hoping that it wasn't just my over-active imagination that had the object of my overheated libido bringing me my drink.
It wasn't. The wide, heavy-lidded eyes that glinted as they met my own were definitely real. And the beautifully flushed face in front of mine was no figment. The hand that oh-so-discreetly grazed my lap while handing me my Dewar's? A betting man would say "not real". But my dick would state otherwise. I sucked in a sharp breath and thanked him without breaking eye contact. What the fuck do I do now? I was the one who so brazenly gave him the not-so-subtle once over upon boarding. To be honest, I assumed he'd be too timid to notice. Or if he did, I figured he'd simply brush it off as an occupational hazard.
Before I had a chance to react one way or the other he was gone, back toward the galley to deal with someone else's drink order, I assumed. My heart was pounding out a staccato like a coked-out hummingbird, and I was honestly in fear of embarrassing myself like a schoolboy. Get a hold of yourself, Donavan.
I watched him deliver a rum and Coke to the man across the aisle from me and a Chardonnay to the woman next to him. And as he stood to return to the front of the plane he turned and, once again, caught my eye. That boy could tempt a monk.
This time, however, he moved slowly, and I could have sworn he added a slight roll to his hips as he walked away. Whether real or imagined, he had my undivided attention. As he reached the front of the cabin, he turned to face me, and I was most definitely caught out with my eyes at an inappropriate level. But as I dragged them up to meet his, a sly smile crossed his face. Oh, that so looked like an invitation.
Want more? Check out a longer excerpt, HERE.
Where to Buy:
✽ Amazon Canada
✽ Amazon UK
✽ Amazon US
✽ ARe
✽ BookStrand
✽ Evernight Publishing
THE GIVEAWAYS!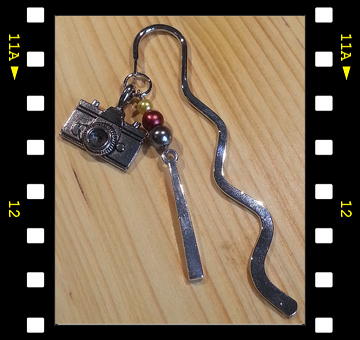 In addition to a Blog Tour Grand Prize of a $25 Evernight Publishing Gift Card (see the Rafflecopter draw below), I'll be drawing for this one-of-a-kind Mile High Rebound bookmark (featuring Will's camera, and Des' horrible burgundy, grey, and yellow tie!)
Just answer the following question in the comments… and I'll choose a random winner at the end of the Blog Tour. And don't forget to include your email address, so I can contact you if your name is drawn!
Q – Would/have you join(ed) the Mile High Club?
✽ ✽ ✽