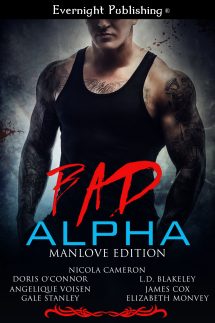 Erotic Romance | MM Romance
Available: February 27, 2015
Evernight Publishing
ISBN: 978-1-77233-257-5
Amazon
Amazon Paperback
Apple iTunes
Barnes & Noble
B&N Paperback
Bookstrand
Evernight Publishing
Kobo
Smashwords
Bad Alpha: Manlove Edition
Bad Alpha features a select collection of stories with shifters so ruthless they will stop at nothing to protect their pack. These aren't sugar-and-spice heroes. Our alphas are feared, inked, and don't ask questions first. They take what they want, never give in to their enemies, and think love is for the weak—until they meet their mate.
Are you ready to learn how to tame a savage heart?
Destined
Caleb Stokes has had a shit night. Too bad catching his boyfriend in flagrante delicto with the club DJ isn't the worst thing he'll witness before the night is through.
Marick Gevrees has no time for romance. He has even less time for a tipsy twink looking for a man to fill some Daddy fetish. But what the hell is he supposed to do when said twink wanders head-long into the middle of a bloody vendetta that could result in the exposure of his clan?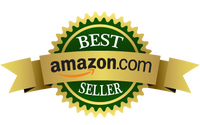 …a delightful collection of stories, all with one thing in common … a hot man in uniform
Love Bytes Reviews
EXCERPT:

"You arrogant prick, what makes you think I—"
Deft fingers working at Caleb's fly effectively stifled any further denial he might have thought to offer. Marick's fingers grazed the heated flesh of his hard, aching cock, and even with a cotton barrier between them, Caleb's skin felt singed. He mindlessly pushed his hips forward, anything that would afford a bit more friction. When Marick didn't move away, he did it again. This time, his movement elicited a deliciously dangerous-sounding growl from the man holding him not entirely against his will.
A low moan escaped Caleb's throat and his pulse raced as Marick ghosted his fingers under the waistband of his tented boxers.
"You told me to fuck off," he managed.
"I did." Marick's fingers oh-so slowly wrapped around Caleb's cock with a gentle squeeze, only enough to taunt. That lightheaded feeling he'd experienced in the truck was back and Caleb was spellbound.
"Then why are you—ohhh!"
Marick's grip tightened and cut short Caleb's weak attempt at protest.
"Do you want me to stop?" Marick's hot breath teased at Caleb's throat. He glided his thumb over the head of Caleb's leaking cock in a lazy circle and gently tugged at Caleb's earlobe with his teeth. The moisture already formed at the tip of Caleb's dick made for a convenient lubricant, and Marick reached down and started a slow, steady stroke. The merciless rhythm Marick set with his huge hand and unyielding grip short-circuited Caleb's brain.
"God. Please. Don't."
This story had it all … some horror and some great humor.
The TBR Pile