Happy Birthday Evernight Publishing! As a relative newcomer to family, I'm thrilled to have been welcomed so warmly into the Evernight fold, and I'm tickled pink to help celebrate such an auspicious occasion!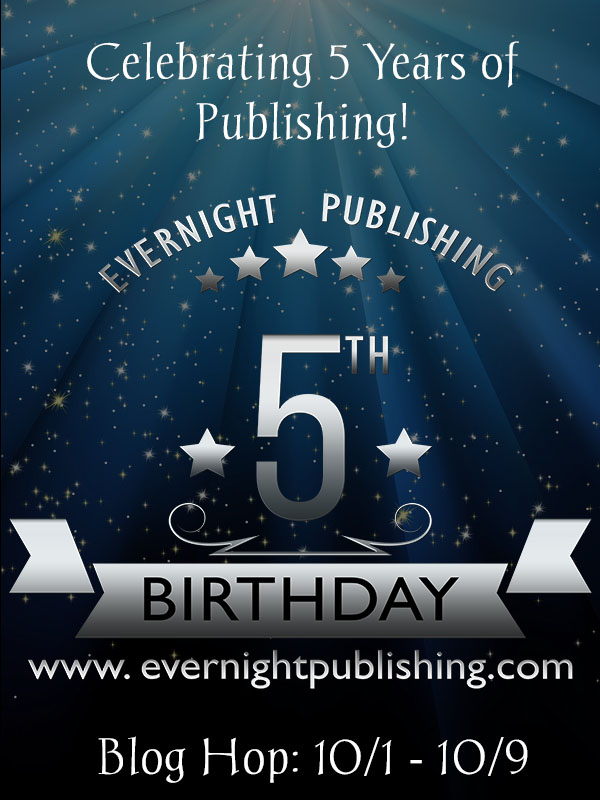 Thanks to readers like you, Evernight Publishing has grown by leaps and bounds in five years so they're pulling out all the stops and throwing an extreme BIRTHDAY CELEBRATION BLOG HOP in your honor!
That's right! It's Evernight's birthday but YOU get the presents…
Prizes include:
Apple Watch Sport
NEW Kindle Paperwhite
Fitbit Flex
Evernight, Amazon, and ARe Gift Certificates
Plus, each author on the hop will offer his/her own special prize!
I'm honoured to celebrate this momentous occasion with Evernight.  Here's a look at my first Evernight title and my latest release:
✽✽✽ You never forget your first ✽✽✽
Judging A Book By Its Cover
Agonizingly shy Emory North has his life mapped out for him: finish his business degree, go to work for his father, and one day take over as CEO of North Star Publishing. More at home amongst stacks of books, Emory has little to no interest in his lot as 'North Jr.', but has never had the courage to follow his true passion—writing.
Brash and ballsy Bryce Palmer, editor-in-chief of ECLIPSE magazine is known for bedding and discarding PAs like yesterday's newspaper. He's up against a serious deadline and down two staff members. And the last thing he has time for is babysitting the spoiled rich son of a CEO. But when Pierce Barclay North insists now is the time for his heir apparent to get his feet wet in the company waters, Palmer's hands are tied.
But looks can be deceiving. And, sometimes, passion can spark in the most unlikely of places…
Where to Buy:
Amazon | iTunes | ARe | Barnes & Noble | BookStrand | Evernight | Kobo | Smashwords


✽✽✽ And you're equally as thrilled with your latest ✽✽✽
Opportunity Knocks (Laissez Faire #1)
Small-town security guard, Gill Martin, has lived in Mystique Pointe his entire life. His dating prospects are non-existent and he doesn't particularly like his job, but at least it's better than unemployment. Besides, he hasn't got any better ideas.
Big-city artist, Tommy Hearne, knows exactly what he wants out of life: a successful art career and a successful relationship. He also knows that living in Liberty City is his best chance for pursuing both. Unfortunately, for him, neither of these pursuits seem to be panning out quite to his liking.
When Tommy and his misfit band of friends roll into town for the Laissez Faire, Mystique Pointe's annual music & art festival, worlds definitely collide. A fiery tryst sparks more than just a lust connection, but what happens when the weekend is over?
Where to Buy:
Amazon | iTunes | ARe | Barnes & Noble | BookStrand | Evernight | Kobo | Smashwords


STOCK UP ON EVERNIGHT TITLES!
It's a great time for an Evernight shopping spree because all Evernight titles are 25% off through October 9 at AllRomance eBooks!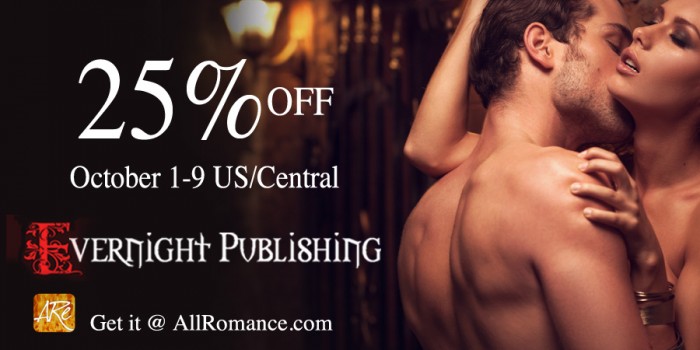 GIVEAWAYS!
I'll be giving away a $5 Evernight Publishing gift card & a free eBook copy of one of my Evernight titles (your choice!) by way of random draw. In order to enter, simply visit my Facebook Author page, give it a quick 'like' & follow me on Twitter, then let me know you've done so here in the comments.
Enter to win the Grand Prizes using Rafflecopter:
HOP TO THE NEXT STOP HERE: