I have the lovely London Saint James here today with a brand new release AND a giveaway!
Forever & Always (Two Hearts, One Soul Duet #2) by London Saint James
Available: August 15, 2017
Publisher: LSJ Romance
ASIN: B074MZBHH5
From international bestselling author London Saint James comes the final installment of Two Hearts, One Soul, a breathtaking story of two people who have always been connected, forever tied together by fate, by destiny, by unbreakable love.
With the media hell-bent on exposing Winter's once private life, Cayden will do anything to protect her. But there's more than just the voracious paparazzi conspiring against them.
Involved in an unprecedented web of strange events, and wound in a string of lies about to break with devastating consequences, Winter must battle ghosts from her past that threaten to harm the man she loves.
Faced with a choice she always knew would be inevitable, and a secret of her own, can the fairytale Winter's been living with Cayden beat the odds of their reality and really come true?
[
Read an excerpt
]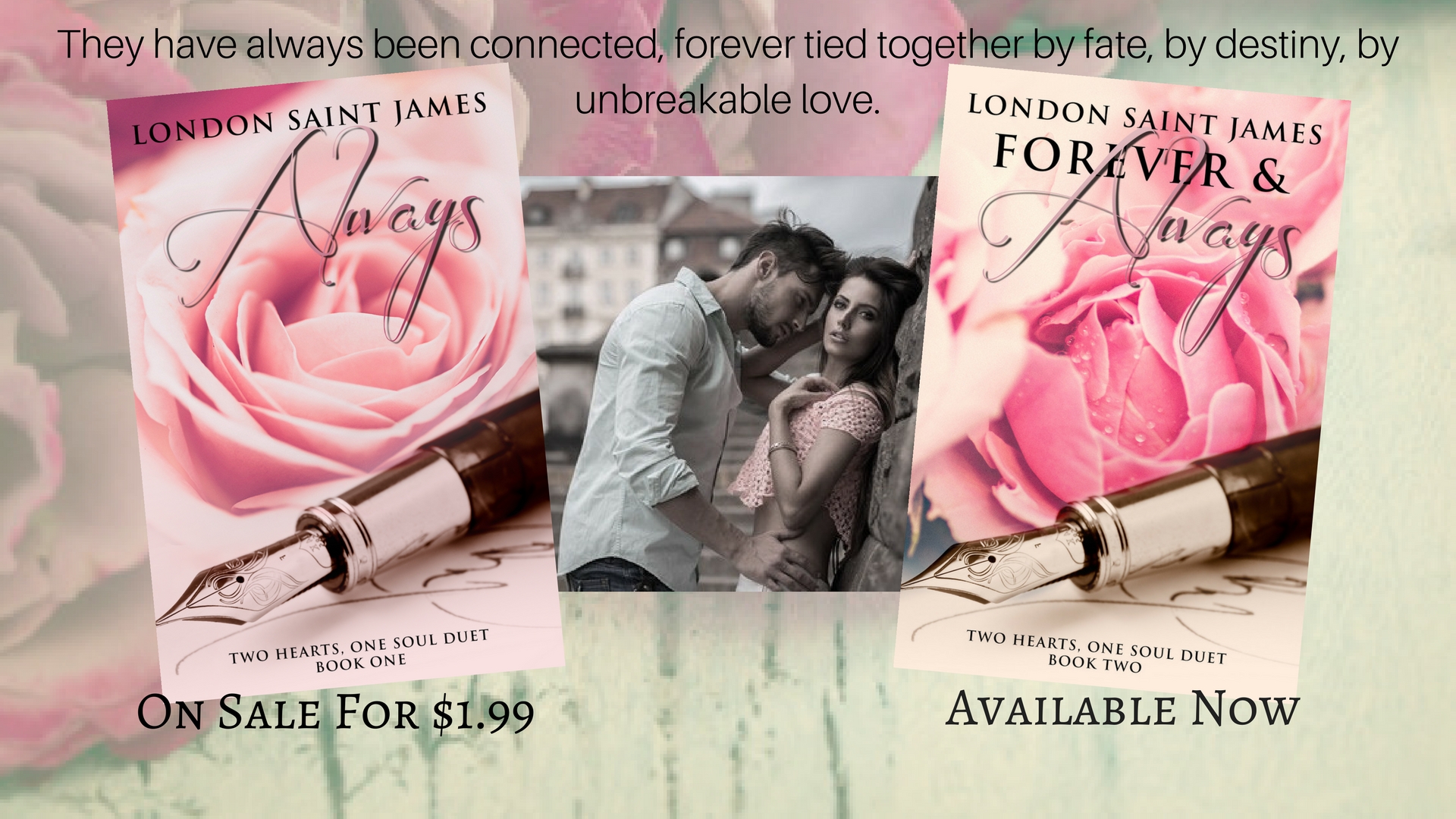 Where To Buy:
✽ Amazon CA
✽ Amazon UK
✽ Amazon US
*Read for free on Kindle Unlimited
For a limited time only, Always (Two Hearts, One Soul Duet: Book One) is on sale (or read it for free on Kindle Unlimited)
✽ Amazon CA
✽ Amazon UK
✽ Amazon US
Excerpt:
Thirteen years ago, I died.
While my death hadn't been physical, it became a never-ending death of the heart. A complete withering of the soul. You see, Austin Carlyle was my everything. My best friend. My lover. The very air I breathed. The sun in my world. My warmth. The beating of my heart. But the night before our wedding, my heart would be ripped from me when Austin's life ended in a horrific car crash. A crash I 'survived' if that's what you want to call it.
Unable to cope with Austin's loss, I retreated deep within myself, eventually leaving New York and my broken past behind. I found some semblance of a new life in Colorado, living in the make-believe worlds of the novels I wrote.
Three weeks ago, I returned to the place I knew would hold all the ghosts of my past, though I came back to the Big Apple at the urging of an old acquaintance, Zander Harrison—Austin's one-time agent and friend. He convinced me to help him with a script to a movie that had been put in a very expensive holding pattern. The leading man hadn't been happy with the direction of the film and had requested Zander find me. I couldn't imagine why. I wrote romance novels. I wasn't a script writer. But something about my books captured Cayden—an A-list actor I'd never seen or heard of before. Of course, I'd soon find out not knowing who the actor was, was ridiculous. I might have been living in my own personal dark ages, but still. He was a megastar. However, the real shocker would be what I faced when memories from the past came back to haunt me.
Weak, bone-cold, sopping-wet, and on the verge of batshit crazy, I stumbled into someone on Valentine's Day—of all days—who shook me to my very unsteady foundation. What I saw when I looked at him was the face of a destroying angel, because it was like looking back in time at Austin. Oh, there were a few things different, like the color of his hair being nowhere near the pitch black of Austin's, but so much about the man was baffling. He was the same height—his build an exact match. His voice—eerily close in texture, tone, and inflection. But if that's not strange enough, he spoke with the same cadence.
Who was he? The Hollywood heartthrob I'd never seen before—Cayden Cain.
After our bizarre 'introduction' the need to know more about him ate at me like the slow drip of acid. I had to find some answers, so I searched the internet. Surprised by the results of my search would be an understatement. It was all too much. Too unbelievable. Impossible. Cayden was twenty-three years old, the exact same age Austin was when he was killed, but even stranger, Cayden had been born in the same month, on the same day—May eighteenth—in the same city as Austin, only years later.
But that's not all. There was a weird coincidence of Cayden being involved in a car accident. One which tragically took the lives of his parents and left him the sole survivor of that accident when he was ten, putting this terrible happening around the same timeframe as the wreck Austin and I were involved in. What was also baffling was the life path Cayden took—acting. It was very close to the path Austin had taken and would have continued to take if he'd been alive. By seventeen, Cayden had been the lead in a small foreign film and moved to Hollywood shortly after, gaining his groundbreaking role at the age of eighteen. The first movie Cayden obtained his superstar recognition for was Longing.
Before Austin's death, he'd signed a movie deal with Paramount. What was the title of the movie he was to begin filming after our wedding? Longing.
When I first read that, I gaped—completely stunned. Then I read a synopsis of the movie, beyond shocked to see it wasn't just a coincidence of the title; it was the exact same movie. I had no idea why Paramount shelved their project for so many years. But to find it had finally been completed with Cayden as the leading man, well, what were the odds of such a thing?
Even with all the uncanny coincidences and the almost carbon copy similarities in appearance, what was truly unbelievable? Cayden's eyes—the same shades of blue from my past. They captured me, looking straight into my soul—the eyes of my love. My life.
Everything changed.
Trust me, I tried to fight against the truth—the pull I hadn't felt in so very long—but it was no use. I'd come to believe, as crazy as it might seem, some way, somehow, Austin saved me through Cayden. It was as though they were two hearts, one soul. Cayden himself spoke as though he'd always known me. Missed me. Loved me even. I couldn't explain how it was possible, but he, like Austin, was the missing piece of my heart.
With his touch, Cayden brought me back to life, reawakened dormant feelings, and gave me what had long been missing—Winter Perri. The only problem, I wasn't sure I could live in Cayden's superstar, paparazzi infested world.
"Will you stay with me?" he'd asked.
I gave the only answer that made any sense at all.
Giveaway: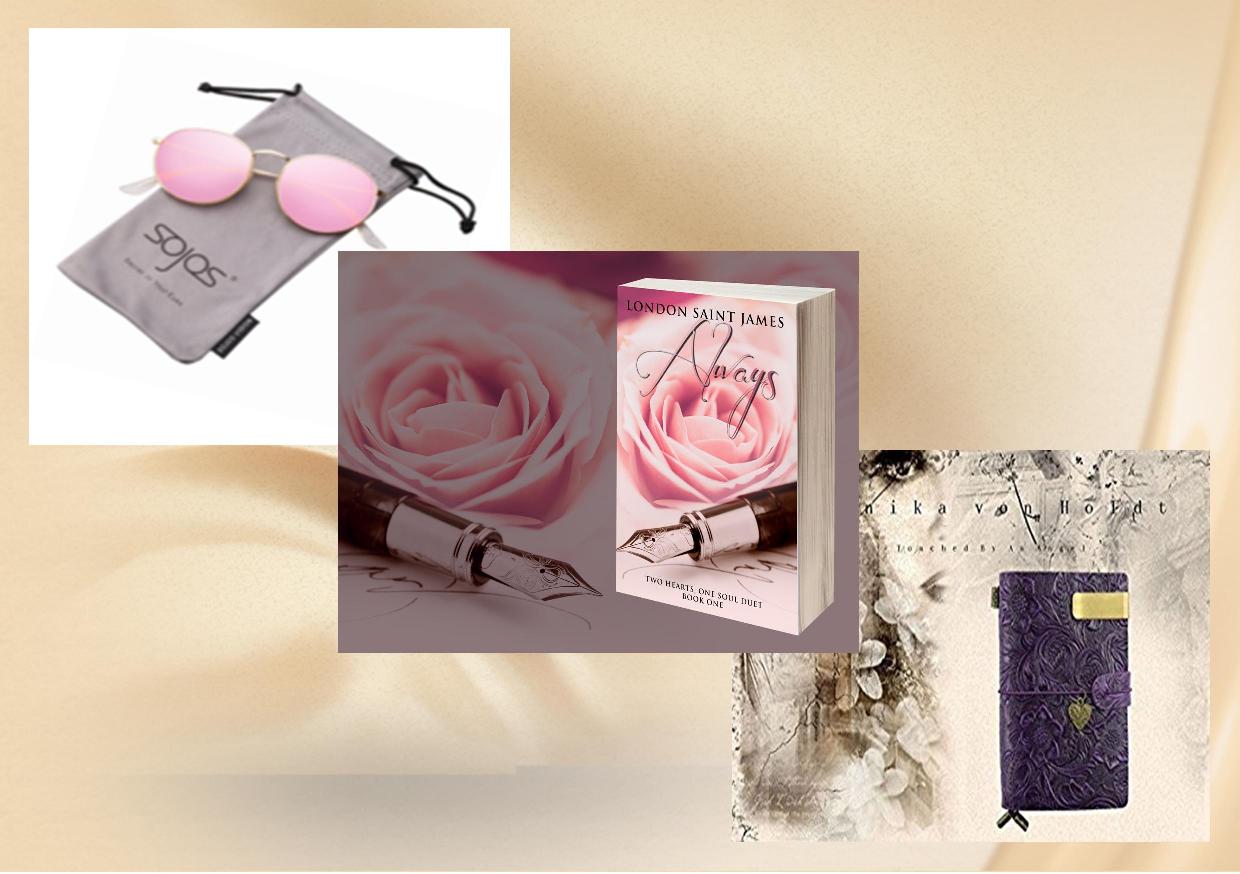 London will be giving away a singed paperback of Always (Two Hearts, One Soul Duet: Book One) as well as a handmade leather bound travel journal, and a pair of pink mirrored Sojo shades to one lucky winner. All you need to do to be eligible is fill out the Rafflecopter entry below.
The winner will be announced on September 15th
About The Author:
London Saint James has lived in many places, but never felt "at home" until she met the real-life man of her dreams and settled down in the beautiful Smoky Mountains of Tennessee. London lives with her husband and their fat cat who thinks he owns them.
As an award-winning, international bestselling author, London is living her childhood dream. She knew all the scribbling she did, that big imagination of hers, and all those clamoring characters running around in her head would pay off someday.
Find her online: Website | Blog | Twitter | Instagram | Facebook