My fellow Canadian, J.J. King, has a hot new addition to her Masterclass series out today. Theoretical Love is the second book in this sizzling collection of smart, sexy stories that you can read before bed or over a lunch hour. So, settle in, read an excerpt and have a peek inside J.J.'s mind…
Tell us a little bit about your newest release.
Theoretical Love is the second book in a series called Masterclass. These stories are part of Evernight Publishing's Romance on the go line; sizzling romances for busy readers.
Book I, Epic Love, introduced Zoey Matthews and Dr. Sebastian Lane, and led the reader and characters on a mystery that could change the history of St. John's, Newfoundland, forever. Book II, Theoretical Love, continues the mystery but tells the story of Dr. Rachel Grande and the delectable Etta McCall.
If you could recommend any book (beside your own) to everyone reading this, what would it be?
I'm in love with local authors. I'm from Newfoundland, Canada, and the talent here is astounding, even though most people aren't aware of it. I think the answer to this question has to be two-fold. I adore Canadace Osmond's thriller, Killer Me. It's smart and sexy and just dark enough to give it some edge. I also love J. Margot Critch's writing. She's a Harlequin Blaze author with a 3 book deal for the new Dare line coming next year, but she writes this series set in St. John's, called Brewed Moon. I can't get enough of the men she writes. You want big, gorgeous, just damaged enough to make you want to fuck them, men… then check her stuff out!
What else are you working on right now? What's up next from you?
Next up. That's a fun question because I'm one of those people who has seven things on the go at any one time. I'm currently trying to ignore everything but my paranormal trilogy, though. Book 3, Sins of the Father, is proving to be intricate and challenging. It's the third in a trilogy that has romance, thriller, and suspense all woven together, so there are a lot of threads to pick up. I'm emmersed in the world of my main character, Katherine LaFlamme, and everything else is on the back burner until I can finish her world.
After that, though, I have so much ready to go. I'll be writing books 3 and 4 of the Masterclass series, Classic Love and Graphic Love. I'm also going to writing books 2 and 3 of my Evernight series, Northern Wild. Once those are finished, I have a Canadian bad boys series I'm loving, a Medusa story that won't leave me alone, and a seven part contemporary sexy series set in Maine.
Lots and lots, that's my answer.
Apart from writing, what are your great passions in life?
Before I started writing, I loved painting, but I havne't picked up a paintbrush in quite a while. It's like all my creativity and focus went straight to taking words from my brain and putting them on paper. There's something addictive about writing, about seeing your thougths put into print.
Of course, that doesn't mean I don't have other passions. I have a three and a half year old son that steals my breath every day. He's a whirlwind of passion and joy, frustration and curiosity. My son and husband are my life, as are the rest of my family and my friends.
If you could have dinner with any three writers, living or dead, who would they be?
Easy. Stephen King, Nora Roberts, and Shakespeare.
I know it's a little cliche to want to meet Shakespeare but my reason might be different than you'd expect. We think of his writing as high class now, as pillars of taste, but in his time, William Shakespeare's plays were downright dirty. Bawdy would be their word for them. He wrote entangled relationships, love affrairs, mistaken identities, and hilarious jokes. He wrote romance and smarty pants literature buffs eat his stuff up now. The truth is that he was one of us, and I'd love to share a pint with him.
As for Stephen King and Nora Roberts, they are my heroes. The way King wove pieces of The Dark Tower series into his entire world astounds me. He's spent a life creating a universe. He's brilliant. Nora Roberts, too, amazes me. She is such a prolific writer and a bad ass. I won't hope to someday publish as much as she has, because she'd say hope has nothing to do with it. Hard word, dedication, and talent, those are the corner stones to her writing. Like I said, badass.
Theoretical Love (Masterclass #2) by J.J. King
Available: August 10, 2017
Publisher: Evernight Publishing
ISBN: 978-1-77339-382-7
Dr. Rachel Grande has the life she's always wanted. She's the youngest tenured professor at her university, has an amazing circle of friends, and she's linked to the greatest discovery in the history of her city. What more could she ask for?
Then Rachel meets an archivist with a connection to her past and her rock solid world tilts on its axis. The delectable Etta McCall is sophisticated and sexy, and she makes Rachel's head spin with a desire so intense it makes her more than a little nervous.
If Rachel can just put the past behind her, she can have it all, but is she strong enough to let go and fall in love?
[
Read an excerpt
]
Where To Buy:
✽ Amazon CA
✽ Amazon US
✽ Evernight Publishing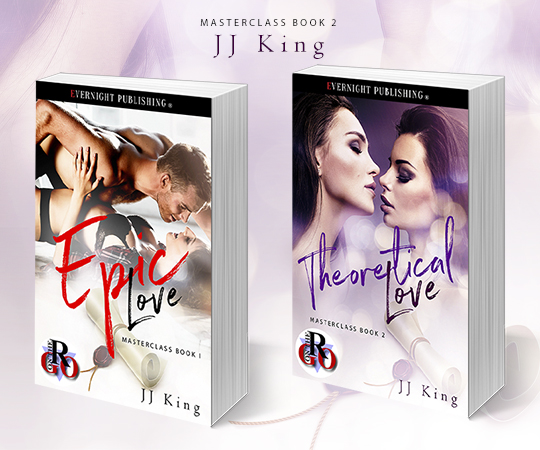 Excerpt:
"You're so beautiful," Rachel murmured, rising slightly onto the tips of her toes to press her lips against Etta's.
A soft moan filled the vault, echoing off the walls, and Rachel didn't know if it came from her or Etta. The lusty sound reverberated through her, turning her core to molten lava and unlocking the passion she'd been trying so hard to hold back.
Rachel slid her hand into Etta's long silky hair and tugged her face down slightly, licking out her tongue to taste. The delicate flavor of Etta's tongue, snaking out to touch playfully with her own, reminded Rachel of peaches in the sun, so ripe and full of sunshine. She nipped at Etta's bottom lip, wanting more, needing everything all at once.
Gone was the thought of waiting, of pacing out their romance and reveling in the anticipation. Rachel's body screamed to press up against Etta's, to taste and touch, to devour until Etta's cried of release were etched in her memory forever. She moved quickly, twirling Etta around and pressing her against a wall, then gathered her hair and moved to the front.
The rasp of the long zipper that held Etta's dress firmly against her long curves was music to Rachel's ears. She inched it down slowly, following its descent with her tongue and lips. Etta splayed her hands against the wall, bracing herself, but Rachel could feel the shaking of her legs as her mouth played with the sensitive skin on Etta's back.
Rachel stopped as she reached Etta's belt and, undoing it, let it fall to the floor. She trailed her fingertips over Etta's shoulder blades and down to the sides of her breasts, peeling the velvet dress off her skin. She leaned in and licked the base of her neck as her fingers explored the small of Etta's perfectly smooth back. A tiny sunburst tattoo hidden just above the curve of her ass made Rachel smile. She may look like a lady from the outside, but Ms. McCall had a saucy side.
Epic Love ~ Masterclass book 1 is on sale for .99¢!
✽ Amazon CA
✽ Amazon US
✽ Evernight Publishing
The Scent Of His Woman ~ Northern Wild book 1
✽ Amazon CA
✽ Amazon US
✽ Evernight Publishing
Finding The Right Words by JJ King
✽ Amazon CA
✽ Amazon US
✽ Evernight Publishing
About The Author:
I love writing and reading and eating sushi with friends. A world devoid of my girls is a barren place. My heart lives in my son and with my family, and I love life, and cats, and wine. I write contemporary and paranormal romance, and I love chatting with readers, so check out the links below and swing by for a chat.
Get social with JJ King!
Evernight Author Page | Website | Facebook | Twitter | Instagram