How about a bit of paranormal romance to get us through this chilly Hump Day? Libby Bishop is back with book three in her Revenant Investigations series. Check out Ghosts of Emerald Bay!
Ghosts of Emerald Bay (Revenant Investigations #3) by Libby Bishop
Available: February 12, 2016
Publisher: Evernight Publishing
ISBN: 978-1-77233-722-8
Kate Briar is enjoying her vacation when her boss calls her to the office about a job. As head researcher for Revenant Investigations—a paranormal investigation team—she's unsure why he sounds so wary about her taking the case. After all, there's very few people in Noble, Maine she'd refuse to work with. She's even more uncertain about his hesitation when he announces that the case is one she's dreamed of since she was a teenager. That is, until he tells her who she'll be working with.
Murphy O'Keefe is a well-known legend hunter. He chases the legends of the dead for profit. Kate used to be good friends with him, and they were growing much closer before he betrayed her. She was helping him with a case when she woke up one morning to find all of her research and all of the artifacts she'd found gone—she hasn't seen him since.
To keep things civil, she offers him a truce, not wanting to spoil the importance of the new case. But she doesn't realize the turmoil of anger and attraction that truce will ignite. Nor that her fate is directly in the hands of the man that broke her heart.
Excerpt:
Sitting at his desk, Folger leaned his forearms against it and folded his hands together. "I'll start by telling you the investigation is at the Norling Lighthouse."
Excitement sparked within her at the name, and she couldn't help but smile wide. "Folger! I've been waiting for an opportunity to investigate Norling since I was a teenager."
Folger chuckled. "I know, which is why you'd be the perfect person for the job."
"Exactly what does the client want?" The lighthouse was known to be haunted by three different ghosts, but it was rumored to be connected to the pirates who came through Noble during the summer months.
"The interest is in the ghost who walks the lighthouse, but the other ghosts should be noted as well. The most important thing for him, our client, is to find the lighthouse keeper's journal, because he believes it's somehow connected the pirate legend."
The joy that was coursing through her drained away, and dread took its place. She understood now why both he and Arabella had kept the client's name from her—it wasn't a Noble resident. Their client was a legend-hunter: a person who hunted myths of the dead for profit.
"Kate, look at me."
She met Folger's gaze, which was filled with understanding.
"It's Murphy O'Keefe."
Her throat went dry and refused to work. Murphy was the one person on the face of the planet she never wanted to see again. Their last encounter was so engrained into memory, all she had to do was think about it and she was right back there in the moment, feeling the anger at his betrayal all over again.
"He has presented enough facts to the town council they've agreed to allow him to dig deeper into the lighthouse keeper, who, as you know, is the one haunting the lighthouse itself." Folger leaned back in his chair. "They had a stipulation—Revenant Investigations is to send someone with him to document the investigation and help him search. They asked specifically for you since you know the history of the lighthouse and the pirates better than all of Noble, save Doyle," he was the head of the Historical Society, "—but if you don't want to do this, I'll understand."
Kate took a deep breath, letting it out slowly. She swallowed hard, the motion near painful. "Does he," she cleared her throat, "have to be at the lighthouse? Can I investigate by myself or with another team member?"
Folger shook his head. "No. He has to be there—it was his stipulation. However, if you feel it necessary to bring in another member of the team, that's what will be done."
Kate crossed her legs, wondering what to do. This case was a dream case for her. She practically begged the Historical Society every year to let her go in for even just one night. But to deal with Murphy? She'd trusted him as a friend and teammate before she started with Revenant and he'd betrayed her. Gutted her, to be more exact. But still, the Norling Lighthouse…
What if she never got another chance to investigate?
"He can't run with the goods, so to speak? He has an ironclad agreement with the council?"
Folger handed her a piece of paper. "I have the entire document on file, but that's really all you need to see."
She began to read it, very carefully.
"In summary, it states that Murphy cannot use any of the findings for profit. That includes documents, journals, jewelry, or any other historical artifact relating to the pirates of Emerald Bay and those who dwelled in the lighthouse, or once dwelled where the lighthouse and the keeper's house now stand."
That's exactly what the paper she was holding stated. She'd read it four more times before handing it back to Folger. "No profit."
"Not a penny. All he'll receive is credit for helping find anything we don't already know for a fact. He can't even sell the story, Kate—Noble will control how everything will be announced and released."
So Murphy would only get credit… Kate took a deep breath, letting it out slowly. "I'll do it, Folger. I'll take the case."
Where to Buy: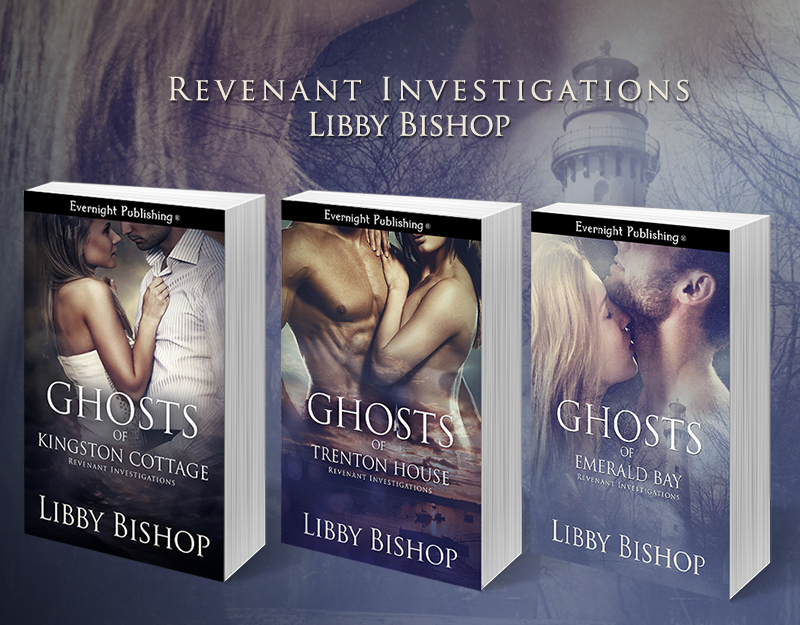 About the Author:
Libby Bishop is a paranormal romance/erotic romance author.
She loves reading, writing, movies, Lindt dark chocolate, autumn, the SyFy Channel (Haven and Bitten!), and spending time with friends and family. She has one fat, fluffy cat who thinks she's queen of the house…and really, she is.
She also writes dark fantasy/paranormal/horror under the name October Weeks.
Find her online:
Twitter | Facebook | Tumblr | Amazon | Goodreads | Pinterest | Instagram | Youtube