Yes, my very first release with Evernight Publishing has been sent out into the world! I'm thrilled to announce that it's also an Editor's Pick!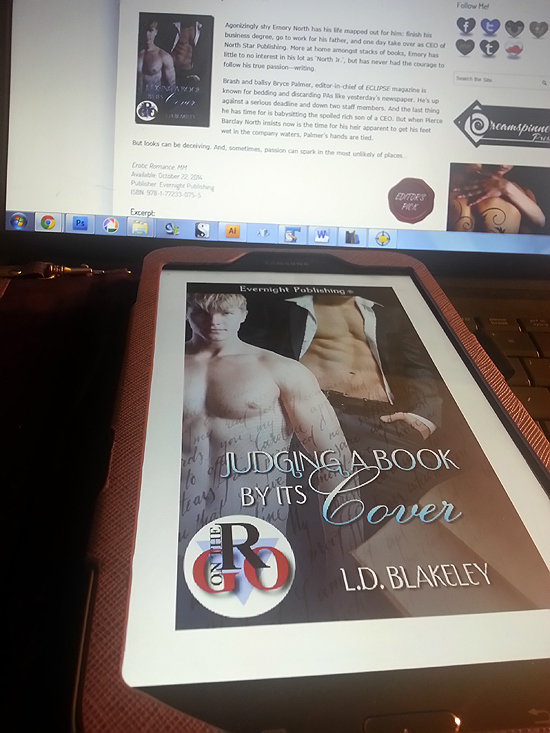 Part of the Romance on the Go™ series, Judging A Book By Its Cover, features a hard-ass magazine editor, a book-wormy rich kid,  some perfectly chilled Chardonnay, and some less-than-PC office shenanigans. 
Agonizingly shy Emory North has his life mapped out for him: finish his business degree, go to work for his father, and one day take over as CEO of North Star Publishing. More at home amongst stacks of books, Emory has little to no interest in his lot as 'North Jr.', but has never had the courage to follow his true passion—writing.

Brash and ballsy Bryce Palmer, editor-in-chief of ECLIPSE magazine is known for bedding and discarding PAs like yesterday's newspaper. He's up against a serious deadline and down two staff members. And the last thing he has time for is babysitting the spoiled rich son of a CEO. But when Pierce Barclay North insists now is the time for his heir apparent to get his feet wet in the company waters, Palmer's hands are tied.

But looks can be deceiving. And, sometimes, passion can spark in the most unlikely of places…
Feel free to click on over HERE to read an excerpt!
Judging A Book By Its Cover is now available at:
✽ Amazon Canada
✽ Amazon UK 
✽ Amazon US
✽ ARe
✽ BookStrand
✽ Evernight Publishing