♥ Happy Valentine's Day! ♥  I've got a seasonal treat for you today with the newest from Evernight author Pumpkin Spice (aka Mary Billiter), The Hart Moment.
The Hart Moment by Pumpkin Spice
Available: February 12, 2016
Publisher: Evernight Publishing
ISBN: 978-1-77233-716-7
Love can't be taught, but it can be unlearned. When Associate Professor Stella Greene lost her mentor on Valentine's Day, she also lost her way both professionally and romantically. Her academic career, and her desire to love again, stagnated.
Pete Hart's doctorate degree in cinema and art history gives him an eye for detail and an appreciation for beauty. When Pete and Stella's paths cross, they realize there's nothing academic about their attraction to one another.
But can even the patience and persistence of Dr. Hart withstand the distance Stella's pain places between them? Can love be relearned? Or will Pete have to take matters into his own hands to claim Stella's heart?
Excerpt:
We barely set foot in his apartment before shoes were kicked off, coats peeled away, his sweater was shed, and I think he was almost out of his jeans when he realized that maybe things were moving too fast. In a white cotton t-shirt and his button fly jeans open, his gray-blue eyes shone in the moonlight.
His gaze then held mine as he walked toward me and started to unbutton my silk blouse. It slid off my shoulders and dropped to the floor. Pete waited while I unzipped my jeans, and then we both stepped out of our jeans together. I stood before him in a black lace bra and pink cotton low-rise panties that had "Wednesday" stamped on the fabric.
He raised an eyebrow.
I shrugged. "I'm kind of into days of the week."
He tried not to laugh.
I lightly whacked him on the shoulder. "Hey! It keeps me on track."
"And clearly that's important."
"Well, it can be." I crossed my arms over my chest and suddenly felt very naked.
Pete moved toward me. And I moved away in equal measure.
"I think it's cute."
I held up a finger. "I'll have you know that days of the week panties are not easy to find." As soon as the words came out of my mouth I cringed.
"There may be a good reason for that," Pete said and burst out laughing.
I bit the inside of my mouth to stop from laughing, but it didn't work. I started giggling.
"Come here," Pete waved me toward him. "Come here, Wednesday."
"Oh, har-har."
I stepped back from him, keeping my eyes firmly on his. The excitement glittering back at me intensified my desire.
"If you think Wednesday looks good, you should see Thursday…" I tried to sound seductive when really there wasn't anything sexy about cotton panties or the days of the week stamped on them, but I only had so much to work with. Then I saw the movies posters in his front room, and I instantly knew what do to.
Stripper Gypsy Rose Lee had less to work, but made more with what she had. She was the woman that literally put the "tease" in "striptease". Gypsy was one movie I knew Pete would have seen and one role I knew I could pull off.
"And Friday … oh you should see Friday's panties…" I slowly glided my bra off my shoulders with my fingertips without revealing anything significant.
Pete's eyes roamed my body, and I savored the seduction. I turned my back and unclasped my bra, exposing my bare back to him. Sliding the bra off, I covered my breasts with one hand and faced him. With my other hand, I twirled my bra on my index finger. Pete was my captive audience.
I dropped my hand that held my breasts, pulled back the elastic band on my bra and aimed it like a slingshot.
"Saturday's panty is pretty saucy, too. It has lace." I released the bra. It lobbed in the air and then fell, missing my mark.
Pete reached up and grabbed my wrist. He pulled me toward him. "You talk too much."
My breasts playfully bounced and pressed against his firm chest. He wrapped his other arm around the small of my back, his fingertips grazing my skin. The force between us electrified, always simmering below the surface, too powerful to deny when we collided. His lips commandeered mine, and my need for him built and screamed for release.
He grabbed my arm and led me to his bedroom. He braced my fall when he leaned us down onto his bed. His unshaven cheek grazed against my neck in an oddly rough, yet subtly seductive way. Everything Pete did, was, and said created a fiery passion in me so strong I had to dig my nails into his back just to make sure I wasn't dreaming. Our bodies brushed, and our breathing grew heavier.
He rocked back to pull off his t-shirt, and I deeply inhaled the cologne I sensed he sprayed in the center of his chest. I pulled him down and crushed him against my taut nipples. Hell, yeah.
His lips kissed and bit my neck. My body waited. Anticipation grew for what I craved now more than ever. He pulled my panties to the side and looked at me.
Damn. His eyes always got to me. They flashed with a mixture of mischievousness and caution as they drank me in. Without uttering a word, his eyes waited for permission. I had the control.
I coyly grinned and opened myself to him.
He reached into the drawer of his nightstand. He ripped the condom packet open with his teeth, slid the sheath over his cock, and dove into me. I moaned and tried to remember how to breathe all at the same time. God, he feels good. His pace and intensity slowed. He waited for me to catch up to him. I need more. His hands caressed my thighs.
I wrapped my legs around him and pulled him deeper into me.
A low groan rose from his throat. "Stella…" Powerful gray-blue eyes locked onto mine. "I'm not going to last long if you keep doing that."
But I wasn't even close to being ready. I slowed down my pace and looked up at him. "Then let's play around the world."
He looked at me, trying to make sense of the sudden shift.
"You know, a trip around our bodies exploring all the different spots."
Where to Buy:
✽ Amazon
✽ ARe
✽ BookBub
✽ BookStrand
✽ Evernight Publishing
About the Author: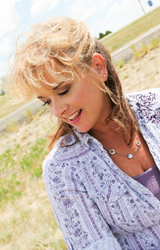 Mary Billiter, Writing as Pumpkin Spice, For Evernight Publishing
Mary Billiter is the author of seven works of fiction, including four under the pen name, "Pumpkin Spice." Pumpkin Spice's debut novel — Scarlett Hood & the Hunter — was an Editor's Pick and nominated by readers as a finalist in the 2015 Third Annual Evernight Readers' Choice Awards. Her Amāre Tales is her fairy tale line & her favorite place to write about! It's based in Amāre, where love isn't just the town's namesake, it's a way of life. Add in a little spice & you've got a good romance and new way of telling a classic tale!
Visit her website:  www.marybilliter.com
Write to her at: pumpkinspicecom@yahoo.com
Follow her on Twitter: @PumpkinSpiceU2