I"ve got a hot new Romance on the Go™ for you to brighten up this gloomy December hump day. Liv Rancourt's The Secret of Obedience is now available from Evernight Publishing and I'm happy to give you a wee peek!
The Secret of Obedience by Liv Rancourt
Available: November 27, 2015
Publisher: Evernight Publishing
ISBN: 978-1-77233-597-2
Opposites attract, but secrets divide…

Ronnie Durand is a country boy who transfers to the University of Washington after two years at Central. He'll have to give up playing football, though finishing his education at a major university in Seattle–and being out and proud without having to look over his shoulder–makes the sacrifice worthwhile.
But finding friends at a huge school is tough, especially when the hottest guy Ronnie meets makes him doubt his own sanity.
Sang's been on his own a long time. He's only a couple steps away from living on the street, and he's got dreams so big they don't leave space for a steady boyfriend. Then he meets Ronnie, who just might be strong enough to break through his barriers….as long as Sang lets him in on one big secret.
Excerpt:
Sang wants to spin, to expand into the space. He shows his desire in the way he raises his arms and sweeps the floor with his gaze. He's wearing a simple white wife-beater over his jeans, but it's topped with a long navy double-breasted coat with gold trim, the kind of thing worn by Union soldiers in the Civil War. It fits like it was made for him, and my palms burn to touch it.
I move deeper onto the dance floor. I'm broader, wider, and the crowd packs tightly around me. I get as close to Sang as he'll let me, belly to belly. He's only about 5'4″, and when he turns his back, he presses his ass against my thigh.
I take it as an invitation. Keeping one hand on his shoulder, I let the other wander. He reaches behind, grabbing handfuls of the denim wrapping my legs. I stroke his throat, bend down to tell him how pretty he is, chicken out and do nothing but breathe in his ear.
Bodies crush, sweaty and raw, shifting us to the center of the floor. My dick's engaged in an argument with the fly of my jeans. I let my hand drift lower, across Sang's chest. His small nub of a nipple hardens under my fingertips, but no softness surrounds it. If he's really a girl, he totally got shortchanged. I sweep my fingers wider. Nah, these pecs belong on a man.
I move my hand lower, going slow, giving him time to stop me. I stick my thumb into a belt loop. He grabs my wrist, tight.
"What?" I ask. The bare, light toast skin of his neck is inches from my lips. I could taste him. I want to. Over the stink of sweat and too many colognes I smell him, some warm spice scent like the incense Mom used to burn.
He brings his mouth within kissing distance. "Don't."
"What you got under the hood, pretty? You packing a V6 or a V8?" I want to kiss him, to taste him, to admire this perfect jewel of a person.
"V6 or V8." He grins, and it's the curve of his lower lip when he smiles that I'll remember, like his mouth is held by a chalice. "Does it really matter?" he asks.
It does, but not in the way he thinks. I leave off my search, but don't move my hand from his belt. See, my stepdad threw me into football when I was eight. I was good at it, good enough nobody messed with me. The locker room's not known for being a gay-friendly place, but being able to dead lift 280 pounds at age fifteen bought me some peace.
I'm still a guy, though, and I like lovers who are smaller and prettier than me. Call me a cave man. Whatever. Sang is my small-town boy's fantasy, and the press of his body has me so turned on I'd think about doing him even if he's actually a she.
My fingers are trembling with the need to touch, to know.
"Come on, Sugar Cookie. Does it matter?"
I lean in, drawn like his lips are the center of a flower and I'm one very horny bee.
"Oh no." He jerks away, his gorgeous smile extinguished. "No kissing. I don't kiss strangers."
Puzzled, I reach out. He's hemmed in by the crowd, so it's nothing to loop my fingers under his shirt and draw him closer. "No kissing, then." Some guys are like that. He rocks against me, straddling my thigh, giving me a taste of the hardness in his groin. Hell yeah.
"Is your ID legal?" Because somehow it matters that he's at least 21. I can't keep the grin off my face. His dick is going to be gorgeous, and I'm going to suck it, and he's going to scream.
"Of course." He's not frowning anymore. He's sly and shimmering and a little mean. "I do love a man in cowboy boots. The rest of it…" He brushes his hands down the sleeves of my plain white t-shirt. "Not so much. But I'll do you for your boots."
I get both hands around his waist and drag him further up my leg. He hangs onto a handful of my shirt. I'm not sure his feet are even on the floor. The song changes, or maybe it doesn't. They all sound the same. My cock is pressed against him hard enough to make me grit my teeth. "Let's go."
His heavy eyelids drift down until he has to tip his head to maintain eye contact. "Bathroom?"
I guess it's that or an alley. "Sure."
He grabs my wrist roughly and leads me through the disorganized crowd. We go right past the men's room to the women's. "Less crowded," he says over his shoulder.
The restroom smells like piss and semen and sweat. We find a stall, and I get down on my knees before he can argue. The floor is sticky, but I figure I can't catch anything too scary through my knees, and from there I can nuzzle his belly.
"Are you always like this? I like a nice toppy guy, you know, but he's gotta be able to—"
I don't hear what he thinks a guy's gotta do seeing as I've covered his mouth with my hand, smearing gritty sticky lipgloss with my fingers. The bossy little fuck has just dragged me in here like I'm some kind of prized bull, and now he's gonna whine about me? There are crinkles of laughter at the corners of his eyes.
"Sang?" I'm not sure what the question is. The door to the stall is at my back, and I'm wrestling with the buttons on his very tight jeans. "Hey, I'm new in town. You should treat me like a guest and let me do what I want."
He drags my hand away. "Now you just wait a minute. What do you think I'm going to let you do? Because if you do anything I don't want, I'm going to scream."
"You'll scream, all right."
Where to Buy:
✽ Amazon
✽ ARe
✽ Barnes & Noble
✽ Evernight Publishing

About the Author: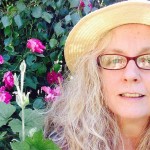 I write romance: m/f, m/m, and v/h, where the h is for human and the v is for vampire … or sometimes demon … I lean more towards funny than angst. When I'm not writing I take care of tiny premature babies or teenagers, depending on whether I'm at home or at work. My husband is a soul of patience, my dog's cuteness is legendary, and we share the homestead with three ferrets. Who steal things. Because they're brats.
I can be found on-line at all hours of the day and night at my website & blog (www.liv-rancourt.blogspot.com), on Facebook (www.facebook.com/liv.rancourt), or on Twitter (www.twitter.com/LivRancourt). For sneak peeks and previews and other assorted freebies, go HERE to sign up for my mailing list.
Come find me. We'll have fun!