Do you like to read without limits? Then you need to be reading Jules Dixon's fantastic Triple R series. Book #7, Rescued By Love,  is now available!
Rescued By Love (Triple R #7) by Jules Dixon
Available: April 5, 2017
Publisher: Evernight Publishing
ISBN: 978-1-77339-243-1
Aurora Jessen lives a life that would make a princess envious, but will her prince ever find her with her overprotective father hovering? When the infuriating Drexel Mason returns to town, his ability to get her to almost spontaneously orgasm while simultaneously making her want to stab him fascinates her, but a deadly accident reiterates the lack of control over her own life.
Drexel Mason's childhood was more a scene from a nightmare than a tale of fated love. The memories make him cover his pain with a secret elixir, but Aurora's kiss confiscates the lingering ache. When she accidentally takes his pain-killing potion, he's given an opportunity to slay the dragon of his cruel past and release the prince hiding inside.
Will Drexel save his princess or will she continue waiting for true love in her ivory tower?
[
Read an excerpt
]
Where To Buy:
✽ Amazon
✽ Barnes & Noble
✽ Bookstrand
✽ Kobo
✽ Evernight Publishing (on sale for a limited time!)

Excerpt:
I rested my cheek against his shoulder and my nose brushed carelessly against his neck. His body stiffened and I wondered if it was from the touch or something else. I could hear his heart beating fast in his chest and the sound was comforting. I inhaled a deep breath and smirked.
His cologne isn't that bad. Just takes time to get used to it.
"Drexel?" I asked.
"Yeah."
"Why did you kiss me?"
"Yeah, I didn't kiss you, Princess. You kissed me."
I'll show him Princess!
As if he knew I was going to try to get away, his hand pressed on my shoulder blade to hold my body to him.
I adjusted my head so I could look up at him again. "No, you kissed me, Drexel."
"Now, Aurora—"
"Don't say my name like that," I said through gritted teeth.
His lips grazed my ear. "Ah-roar-ah." He pulled the life from every syllable until I needed the next one like the oxygen in my blood. "We both know that was an impulsive and uncontrolled Aurora kiss. It wasn't a Drexel kiss. When I kiss you, it's different than that kiss. I'm sure you remember what one of my kisses feels like, right?"
I ignored the question. To remember brought back memories I didn't want to forget, but I'd pushed them down to move on with life like he had.
"You can't tell me you didn't like that kiss," I hissed back.
"Didn't say I didn't like it. I'm saying I didn't start the kiss, and I was only participating in being molested by your tongue because you seemed to be enjoying it."
"I seem to remember your third leg was molesting me and would lead me to believe you were enjoying it."
"Whatever." He chuckled and my rising blood pressure made my face flush.
"Did you just 'whatever' me?"
"Just trying to speak your language." His hand lowered and slipped into the open slit on the back of my dress. With his hand spread across my lower back, I could feel the tip of his pinkie just resting at the top of the split of my butt cheeks, sliding under the lace of my thong. Skin on skin.
I wiggled and shout-whispered in his ear, "Drexel, your hand!"
"Uh-huh, nice thong." He was an excellent dancer, swaying our bodies in unison to the dreamy but sultry beat. He spun us at just the right moment, compelling the breath to exhale in excitement from my lungs. "What about my hand?"
My breathing shallowed and my body betrayed me, hardening my nipples. "Please, your hand." A moan escaped my lips.
Drexel rumbled a soothing, manly murmur of appreciation in response. "Now, why can't you be this Aurora all the time? So peaceful and graceful, and not pissing me off?"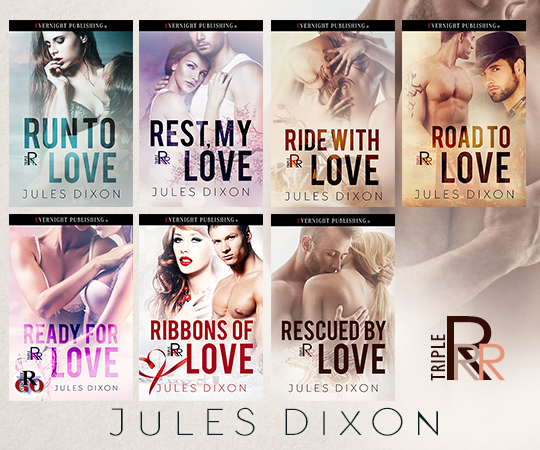 Readers are saying about the Triple R Series:
Everyone can relate to Presley's insecurities. Bless that hero Jude who rode in on the white horse. This is a fun and sexy romance. –T. Crosby
Oh. My. Gosh! When Sage thinks that Rahl is going to kiss her and on a whimpered breath she says just his name, "Rahl". …sigh. Big breath…aahhhh! So frickin' romantic! –Kindle Customer
I love this group of people, and every book gets better and better! Kanyon and Willow have been my favorite so far. Jules is a great author, going to start the next one now! –S. Parks
About the Author:
Find her online: Jules Dixon Website | Facebook | Twitter | Pinterest
Coming Next…
A surprise fated mate. A fence between them. Family objections to face. Are they stronger than everything separating them?