Please welcome my guest blogger, London Saint James, on this bright sunny Monday!
Thank you so much for having me on your blog to share a little bit about my new release, Always.
Some of you may remember this story as The Heart of Winter which was originally published in 2011 as a four book continuing series, Enchanted, Requiem, Revelation, and Eternal. While I have written many stories since then, Winter's story was my first published set of novels. They say you never forget your first love and that's true. Winter remains one of my favorite heroines and has always held a special place in my heart.
When the contract for this set of stories ended and the publishing rights came back to me, I knew I needed to retell it. Freshen it up. Add new content. So I stepped back into Winter's world and made changes. Her entire story will be retold in a two book duet of novels.
I hope this new version of Winter's story with bonus scenes will be one you fall in love with as much as I have.
XoXo
London
Always by London Saint James
Available: April 6, 2017
Publisher: LSJ Romance
ASIN: B06XPXK4LR
Cover Art by Kellie Dennis – Book Cover by Design
Edited by Red Penn Services
International bestselling author London Saint James' first installment from Two Hearts, One Soul Duet is the epic tale of abiding love, heart-wrenching loss, and an astonishing bond that will find a way to endure.
Winter Perri never truly understood love until she met Austin Carlyle—the man who would rock her world to its foundations and give her something to believe in. But the night before they were to be married, the fairytale shattered.
Thirteen years later Winter is pulled out of her seclusion only to have a painful past confront her, and when it does, she's left questioning reality, because the impossible is looking back at her with the face of a destroying angel, and piercing eyes in too familiar shades of blue.
[
Read an excerpt
]
Where to Buy:
✽ Amazon CA
✽ Amazon UK
✽ Amazon US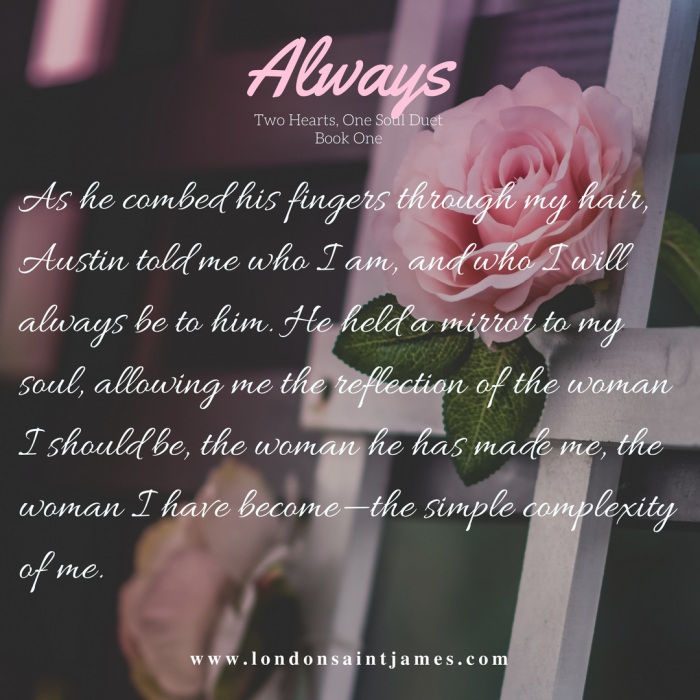 Excerpt:
We were never going to get out of California!
"Looking at a five-hour delay," the pilot said. "Bad weather at LaGuardia."
Fantastic.
Austin put his arm around me, pulled me close, and whispered, "Do you have any idea how stunning you are when you're mad?"
His tempting voice broke through my irritation like a sledgehammer, and without any control to stop it a smile crept over my face. "No, I don't. Why don't you tell me?"
"I only have five hours to tell you, so we better get started."
I rolled my eyes. "I doubt it will take five hours to explain."
Austin laughed his low musical laugh then tapped the tip of my nose with his index finger. "I know. I'll need more time."
If Austin hadn't been with me, I would have been upset the entire time; however what could have been a taxing event was as usual made better by his always calming presence. He took me by the hand, without protest on my part, and led me over to a more secluded area of the airport, scurrying past an onslaught of people, baggage handlers, flight attendants, and airport security as if we were the only two people in the world.
He sat down, propped his back against the wall, and nestled me between his legs. I leaned my head against his right shoulder with my two hands resting on each of his denim clad knees as he talked in a low murmur into my ear. The sounds of the airport faded away. The footfalls of strangers left. The bustle of baggage being moved disappeared. The overhead announcements completely vanished, while Austin described to me in detail why he found me beautiful.
He told me about my mouth, the way it moved when I talked, the way my eyes flashed when I got irritated, or excited, and how my face looked when I was mad or jealous. He described the curve of my eye, the arch of my brows, the furrows that gather between them when I concentrate. He told me about the color of my eyes, describing them as emeralds cut with sparkling facets of light. He spoke of how I bite my bottom lip. How he loved to hear me sing to the radio in the shower, the sound of my laugh, and the way my face looked when I was happy—luminescent and bright. He even told me he loved it when I argued with him, watching that little huff of displeasure I made right before I caved in.
I smiled because he was right. He had the ability to make me cave no matter how ticked-off I might be.
Austin told me how he loved to watch me sleep—the peaceful expressions—the sound my heartbeat made as it thrummed. He spoke about my body, the way I moved, the sounds I made when we made love—the warmth of me. Then he threw in some hot, juicy details about his body and mine that made me blush.
This started another line of conversation which prolonged the rosy red sensation to my cheeks.
Then, Austin delved deeper. He told me how my fragility showed through my strength, my insecurities through my courage—how I'm more than body, more than flesh. He spoke of me as the essence of desire, beauty, intelligence, grace; more than a single truth, a single word, a single caress, or a simple breath. He explained I am a girl, a lover, a daughter, a friend, a woman, and someday I will be a mother. He expressed his longing to have children with me, saying he couldn't wait to see my belly rounded with our child.
"I want a little girl with your eyes, your lips, and your smile," he said.
"Maybe I want her to have your eyes, brilliant blue that shifts into silver," I countered.
"All right then. We'll have both. A compromise. One with your eyes and one with mine."
"Don't you want a boy?" I asked.
"Sure," he said. "How about you?"
"I would love to have your son and watch him grow up to be a heartbreaker just like his father."
Austin's laugh vibrated across my cheek. "It's settled. Two girls and a boy."
As he combed his fingers through my hair, Austin told me who I am, and who I will always be to him. He held a mirror to my soul, allowing me the reflection of the woman I should be, the woman he has made me, the woman I have become—the simple complexity of me.
About the Author:
London Saint James has lived in many places, but never felt 'at home' until she met the real-life man of her dreams and settled down in the beautiful Smoky Mountains of Tennessee. London lives with her husband and their fat cat who thinks he owns them.
As an award-winning, international bestselling author, London is living her childhood dream. She knew all the scribbling she did, that big imagination of hers, and all those clamoring characters running around in her head would pay off someday.
Find London online: Website | Blog | Twitter: @LSJRomance  | Facebook | Instagram
Sign up for London's Monthly Newsletter