Happy Hump Day lovelies! I've got a special treat today: a hot new release AND an author Q & A.
Beth D. Carter was kind enough to take some time out of her busy writing schedule to tell us a bit about her latest from Evernight Publishing.
What book are you going to tell us about today?
Molly's Affaire de Coeur…it's a ménage story that takes place in France. It had been previously published under a different title, but I took back the rights to make it better. I've grown as a writer, so I was glad to have the chance to rework some of the parts.
How'd you/your muse come up with this story?
I lived in Paris for 4 months and explored the city every day. It was the adventure of a lifetime. I used all that experience to write Molly's Affaire de Coeur. That's why, in some scenes, it's a lot of detailed exposition.
How much real life do you put into or influences in this book?
A lot. Even down to the guy in the shower that Molly watches. When I moved into my apartment in Paris, the living room window looked down into my downstairs neighbor's bathroom. I accidentally witnessed him showering one night, and that sparked an idea which eventually led to this story.
If someone hasn't read any of your work, what book would you recommend they start with and why?
I would say it depends on the genre you wish to read, because I've got a foot in a lot of them. Some of my favorites are Dreamland, When Lightening Strikes, Invincible…this one. Really, everyone should check out my bookography (I just made that word up).
Name one thing readers would be surprised to know about you.
I used to work for a film and TV editing company, who used to do the nomination packages for the Emmy's and Oscars. I was able to attend the Emmy's one year, wearing a beautiful dress and walking the red carpet. I got to see a lot of stars, including Jack Lemmon before he died. It was a fun time in my life, going to a few "Hollywood" parties and meeting celebrities. I'm glad I had the experience.
---
Molly's Affaire de Coeur by Beth D. Carter
Available: April 14, 2021
Publisher: Evernight Publishing
ISBN: 978-0-3695-0336-7
Everyone in her hometown knows that Molly Evain is shy. As a librarian she relates to books better than to humans. Quiet, reserved, demure…all words people use to describe her, including her boyfriend. But when he pops the big question, Molly realizes she doesn't want to be those adjectives anymore. What she doesn't know is if she's able to change since she suffers from panic attacks and agoraphobia. In order to give herself time before answering, she decides to take an impromptu vacation to Paris.
A chance encounter puts her in the path of not one, but two, handsome men. Regan Rookery is a hockey heartthrob, on vacation to find relaxation and anonymity in Europe. Shane Gordon is the man she is having a voyeuristic romance with through her hotel window. When she realizes both men are best friends and she's whisked to the French countryside, Regan and Shane come to terms that they are both falling for the same girl.
But their lives are disrupted by the media attention of their relationship and Molly doesn't know if she's strong enough to handle the attention and publicity. Does she run away, knowing that if she does, she could lose both men she's come to love?
Where to Buy:
 Amazon
 Evernight Publishing
 Kobo
 Smashwords

About the Author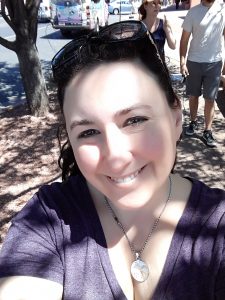 "I began reading my mom's Harlequin Presents in the fifth grade, and from the first story I knew I wanted to write romance novels. I like writing about the very ordinary girl thrust into extraordinary circumstances, so my heroines will probably never be lawyers, doctors or corporate high rollers. I try to write characters who aren't cookie cutters and push myself to write complicated situations that I have no idea how to resolve, forcing me to think outside the box. I love writing characters who are real, complex and full of flaws, heroes and heroines who find redemption through love."
Find Beth online: