Happy Monday, everyone! Are you snowed in, or about to be like the reset of us here in Toronto? Or maybe you just need a bit of an escape from the EDJ? Have no fear, for I have a treat from Ravenna Tate that'll warm you to your toes!
Relentless (Tortured Love #3) by Ravenna Tate
Available: March 7, 2017
Publisher: Evernight Publishing
ISBN: 978-1-77339-199-1
For years, Blake the Snake, as he was known to his Alpha Chi Gamma brothers, took pictures of the conquests of auction winners having sex with their "prizes" at the fraternity's annual Spring Bacchanalia. It was all in fun, until he stopped a young woman from being raped by the football player who had won her.
From that moment on, Blake Bombay's life changed forever. He became obsessed with Kendra Kensington, and worked tirelessly to keep her safe. While watching her from afar, he plotted and planned for the day when she would be his. Trouble was, she didn't know it. She never saw his face that night or learned his name. But that didn't matter to Blake. She was his. She had always been his, and one day she would be his forever.
[
Read an excerp
t]
Where to Buy:
✽ Amazon
✽ Bookstrand
✽ Evernight Publishing
✽ Smashwords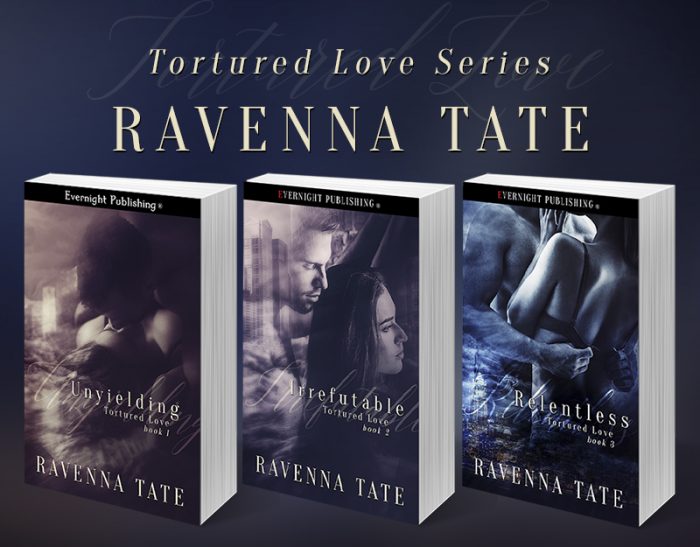 Excerpt:
"Oh, wait. What have we here?" He turned her around so her back faced him, and brushed his hand across her soaking wet slit. "Oh, Kendra…"
There was no answer. She couldn't even moan. She was lost in the heady sensations once more of his hands on her, caressing her in exactly the right way to bring an orgasm close. He played with her clit, teasing it until Kendra's moans grew loud, and she pushed back against him, wanting more.
"What should I do with you, you naughty girl?"
Oh, what a question! "Anything you want."
His soft chuckle sent a thrill racing through her. "You might regret saying that."
"Not a chance." Every cell in her body tingled with desire.
When he lifted her skirt, he brushed his hand over her ass cheeks, alternating them. "You really do have a beautiful ass."
"Thank you." She was out of her mind with need. Nothing existed except his touch on her skin.
The swats on her ass were light at first, but Kendra had to hang onto him once he began. She'd never been so turned on in her life. Her clit contracted in tiny spasms as the strikes grew harder, burning now each time he hit her. But at the same time, Kendra didn't want him to stop. Her climax inched closer when she flexed her Kegel muscles, sending shockwaves of desire racing through her groin and out to her fingers and toes.
"Let's see how much you like this." He brushed his fingers over her labia. "Oh, wow. I'd say a lot."
The giggles turned to moans when he pushed two fingers into her pussy. Blake kissed her neck as he finger-fucked her, his thumb now rubbing her clit in time to his thrusts. She clutched his arm for support as a crazy orgasm began, and when he realized what was happening, he bent her over the table until her she rested face down on the surface. Her torso was supported, but her ass was bare.
"Please don't stop, Blake."
"I won't, sweetheart." He continued moving his fingers in out of her until the climax finished. She was so wet, Kendra heard slurping sounds when he finally removed his digits from inside her pussy.
"Oh, fuck." Blake spanked her a few more times on each cheek, harder this time, before she heard the sound of a zipper. "I can't wait, Kendra. I've never done anything so fucking sexy in my life."
The tip of his dick rubbed her ass cheeks, and Kendra was certain she'd go out of her mind long before he got it inside her. He ran one finger along the crack of her ass.
"I'm going to fuck you right here, on this table. What do you think about that?"
"Yes. Please!"
"Oh, Kendra…" He grasped her right hip and slid his cock into her pussy, groaning loudly. Kendra cried out in pleasure as he slammed into her. His thrusts were quick and powerful, and she loved it. Being taken like this, still fully clothed and bent over the dining room table, was the kinkiest thing she'd ever done.
While David Bowie sang about his China girl, Blake fucked her like a runaway train. When he massaged her clit again, another climax tore through her, making her dizzy with its intensity.
"Kendra … oh my God, this feels so damn fantastic!"
About the Author: