It's never too late to immerse yourself in some hot, holiday romance. And today I have a sexy two-for-one from Gale Stanley: two previously published holiday novellas,  Silent Knight and Sleepless Knight.
Silent Knight/Sleepless Knight by Gale Stanley
Available: December 8, 2017
Publisher: Changeling Press
ASIN: B077SPXRVX
Publisher's Note: Silent Knight, Sleepless Knight (Duet) contains the previously published novellas Silent Knight and Sleepless Knight.
Silent Knight
Paul Stanton thought he had it all, a great job, a beautiful condo and a stable relationship with his boss, but when his lover dumps him for another man, Paul is forced to rethink his life. Rather than spend the holidays alone in San Francisco he visits his childhood home in rural Pennsylvania. But only a few days with his family is enough to convince Paul that you can't go home again.
Paul leaves for the airport in the midst of a snowstorm. Stranded in the woods, a chance meeting with a hunter is his only option for survival. Paul knows the type, a backwoods bigot just like the men he grew up with, but what choice does he have? A few days with the hunter convinces Paul there's more to Andy Reynolds than meets the eye. But is it enough to bind two men who have nothing in common except their sex?
Sleepless Knight
Andy and Paul are totally committed to each other, but when the two-year itch infects their relationship, Paul becomes distant and refuses to talk about it. Andy arranges a much needed vacation, but on the way home they pick up a hitchhiker who's willing to trade sex for a roof over his head. Andy will do anything to make Paul happy, even if it means bringing another man into their bed. But is a threesome really the answer? Or will it drive them further apart?
[
Read an excerpt
]
Where to Buy:
✽ Amazon
✽ Barnes & Noble
✽ Changeling Press
✽ iTunes
✽ Kobo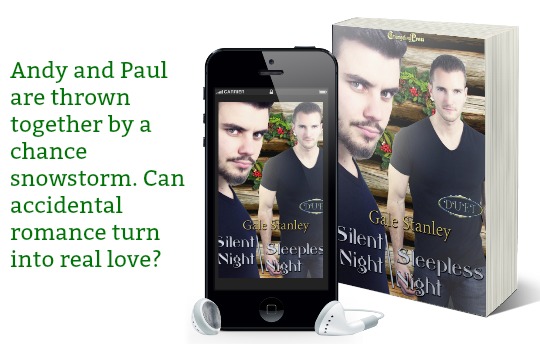 Excerpt:
Andy studied his houseguest. Under different circumstances, Paul's features would be extremely appealing, but right now, his high cheekbones were an unhealthy shade of pale, and his sensual lips were blue. He hoped Paul would accept his help. "Okay, let's get you into bed."
"I usually get dinner first," Paul mumbled.
Paul's attempt at humor was a good sign. Andy chuckled. "I'll give you something to nibble on later, city boy."
Andy helped his unexpected guest to the sleeping alcove. It was only across the room, but Paul leaned heavily on Andy, and by the time he sat on the bed, sweat beaded on Paul's forehead. The man was obviously exhausted, but he tried to push Andy away when he attempted to undress Paul.
"Come on, city boy. You need to warm up."
"I'm good." Paul's sentence ended with a shiver.
"You're not good. You're hypothermic and maybe frostbitten. Let me take your clothes off, and maybe we'll save a few body parts."
Andy's harsh words must have gotten through to Paul. He stopped protesting and allowed Andy to undress him. When only Paul's boxers remained, Andy surveyed his body with a clinical eye. There were no disturbing signs of frostbite. He just needed to rest and warm up. Paul might be cold, but he was also incredibly hot. Andy couldn't help checking out his houseguest's perfect golden tan. Obviously, the man was from a warmer locale. And Paul's lean, muscular body, sprinkled with light brown hair, shouted gym rat. When Paul lay down on his back, Andy was surprised to see an erection escaping Paul's boxers. He reached for the waistband to pull the shorts off.
Paul rose on his elbows and swore under his breath. "See anything you like?"
About the Author: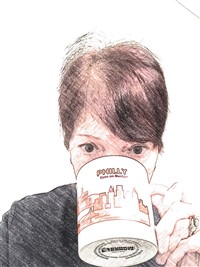 Gale Stanley grew up in Philadelphia PA. She was the kid who always had her nose in a book, her head in the clouds, and her hands on a pad and pencil.
Some things never change.