I've got one last holiday treat to share! Elyzabeth M. VaLey's paranormal romance, The Beauty of Forever,  is available now and here's your peek inside…
The Beauty of Forever (A Christmas Realm Tale) by Elyzabeth M. VaLey
Available: December 3, 2017
Publisher: Evernight Publishing
ISBN: 978-1-77339-498-5
Once dead, always dead. 
Christopher Beaufort works in what could easily be the most cheerful place on earth, Santa's Christmas Realm, but as a vampire, he is nothing more than a shadow among the living.
Worn out by the demands of his job as Chief Toy Officer, Santa assigns a human woman to help him, Samantha Kraus. Tantalized by the fiery red-head, Christopher makes it his business to seduce her, but as he does, something within him begins to stir.
Life is a gift in which every moment counts. 
When Samantha Kraus accepted the job of assistant manager at Santa's, she expected elves, fairies and maybe some shifters, but definitely not vampires. Least of all did she imagine her boss would be one of them or that she'd be attracted to him.
Though she tries to remain professional, Samantha finds herself falling for Christopher. But, can a vampire's heart ever beat again?
[
Read an excerpt
]
Where to Buy:
✽ Amazon UK
✽ Amazon US
✽ BookStrand
✽ Evernight Publishing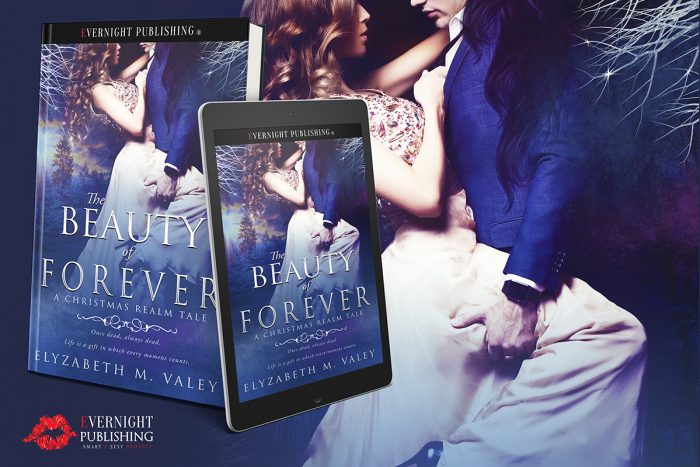 Excerpt:
"That went well with Jacobs, right?" she blurted, searching for a distraction.
Christopher looked at her. The intensity in his gaze threw her back and her knees weakened.
"Yes," he replied. "You were fantastic. I can see now why Santa hired you." His mouth thinned. "Jacobs was practically salivating after you."
Samantha blinked, surprised by the ferocity in his tone. "I don't know him as well as you do, but from what he spoke, he seemed devoted to his wife."
"It's not what I saw."
She smiled, trying to ignore the low timber of his voice and the way it curled in her belly, heating her from the inside out.
"Is that why you were glaring at him while we were working?" she joked.
"I wasn't glaring. I was simply—" Christopher raked his gaze over her. "Watching."
Samantha shivered. She lifted her chin. "And did you observe anything of interest?"
Christopher slid his arms to the height of her elbows. He didn't touch her, but the hairs on her body rose. Nerve ends tingled. Christopher leaned in. "Absolutely."
"Mind sharing?"
What was she asking? She knew full well they weren't talking about work anymore, but she couldn't stop herself. Her body had taken over her mind and all it wanted was for Christopher to come closer. She craved to see him bring out his humanity in the most carnal way possible.
"I'm not sure you're ready."
"Try me."
Christopher grinned. His gaze held a warning which she should have heeded because the moment his lips touched hers, she knew she was lost. Burying his hand into her hair, he slanted his head and dove into her mouth. Like a flower urgently seeking sunshine, she opened up to him. His groan reverberated through her and she arched against him. His minty taste swept over her, taking her by surprise. Holding her firmly, he devoured her like a man starved of nourishment. Each stroke of his tongue drew her further away from reality, into a bubble where only they existed. Desperate to find something to hold on to, to keep her grounded, Samantha fisted his shirt.
It didn't help. The world vanished, leaving only him behind. His essence. His strength. The heat of his passion, which she frantically desired.
The train lurched to a stop and they stumbled, breaking apart. Gasping for air, Samantha stared at Christopher. His eyes had deepened to an indigo blue and he had a wildness to him that spoke of danger and unyielding hunger. For her? She swallowed. She had to stop this now. Before it got too far. It was one thing to flirt with him so he would smile, and another one entirely different to kiss on a train full of people.
"Christopher—"
People shoved their way out of the wagon, drawing them close again. Christopher wrapped her in his arms. His scent flooded her and for an instant, she shut her eyes and pretended the sound against her ear wasn't her own heart thrashing, but his, beating.
But it wasn't. The knowledge chilled her to the bones. Christopher wasn't really alive. He spoke and he moved but his heart was dead. How did he even exist?
The piercing whistle of the shutting doors signaled the train's departure. Christopher tilted her chin.
"Are you all right?"
Samantha sucked in her cheeks.
"Christopher, we can't do this," she said.
"By this, I imagine you're talking about the kiss?
She nodded.
"Why not, Samantha?"
He stroked her bottom lip with his thumb, leaving a tingling trail which echoed in other parts of her body. Damn it all if she didn't want to nip his finger and tease him. She yearned to kiss him again, to feel his unpredictable heat against her.
"I don't see the problem. We're both adults and we're attracted to each other," he continued.
You're not alive.
"We need to work together. Things could get complicated," she said instead.
Christopher cupped her cheek. His eyes narrowed and he set his jaw. "Complicated?"
"We work together," she repeated.
Wanting you scares me. It's unnatural.
Christopher raised his eyebrows.
"I see." He disentangled himself from her. Samantha shivered and fought the urge to wrap her arms around herself. Christopher smirked. He knew.
"I'll respect your wishes, Samantha. For now. But, just remember, doll, I'm an animal of prey. What I want, I hunt down and get. I've lived long enough to know I want you, Samantha, and a night of hot, passionate sex won't make things, as you put it, complicated." The train started to slow again. Their stop was next. Christopher leaned in. "Sooner or later, doll, I will have you."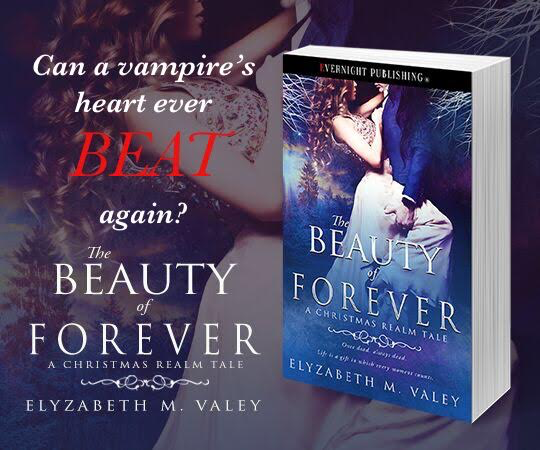 About the Author:
Elyzabeth M. VaLey is a writer of sizzling, sexy romance who firmly believes in happy ever after.  From paranormal to contemporary, fantasy, or historical, she enjoys exploring her characters' darker side and writing stories about tortured heroes, strong heroines, and all that comes between them and their love.
When she's not writing, she can be found walking in the Spanish countryside with her black Lab, exploring castles, or enjoying some tapas with her friends.
Follow her online: Blog | Website | Facebook | Twitter | Instagram (@elyzabethm.valey)