We're halfway to the weekend (and nearly halfway through the month of July – wowsers!) Today I've got some romantic werewolfy goodness from Rose Wulf. Stayed for Alpha is book 3 in her Night Shadows series and you do not want to miss it.
Stayed for Alpha (Night Shadows #3) by Rose Wulf
Available: June 2, 2016
Publisher: Evernight Publishing
ISBN: 978-1-77233-880-5
Adam Jefferies is a young Alpha taking a big risk. He wants to set down roots in California – a state largely claimed by the oldest and most powerful vampires. He's going to have to earn their place the hard way.
Whitney King is a Rogue wolf with a single purpose in life: get revenge for the pack that took her in so many years ago. The pack that was slaughtered by a dangerous vampire. She's tracked that vampire to California and she's prepared to risk her life to end him. But she's not prepared to find something worth living for…
When Adam takes Whitney in she says it's temporary. He knows it won't be, but he'll have to show her why if he wants her to stay.
Excerpt:
But when was the last time Rogues traveled in groups? Maybe that was the problem. Dylan was obviously Rogue. That alone would give most wolves reason to be cautious. Brody and Camila were followers. Gammas. Their attaching themselves to a stronger wolf made sense. And if Dylan had Alpha in him, his acceptance of them would make sense, too. But he swore he didn't.
Adam just wasn't sure whether or not he believed that.
As he watched, Dylan leaned a little too far into Whitney's personal space and Whitney recoiled. Adam felt a surge of possessiveness flare inside him. Dylan was flirting with her and it pissed him off. Fortunately, Whitney's rejection of those advances was fairly obvious. Except, apparently, to Dylan.
Dylan's arm extended as though he were reaching for her and Whitney moved fluidly to her feet. Out of reach.
Adam took a step forward on instinct.
"Hey, Dylan," Jim called from the grill a heartbeat later. He gestured with the tongs he held. "Why don't I show you how to work this thing?"
That was probably for the best. Although if Adam's possessive instincts didn't cool off, Dylan's time with them would have to be cut short.
Whitney used the opportunity to extract herself from the others and strode toward him purposefully. She stepped right into his personal space like she belonged there. "Kiss me," she breathed. "Make a scene."
Adam didn't really need to be asked, but he didn't bother to explain that, either. Instead he wrapped his arms around her waist and hauled her up to his lips. His tongue slipped into her mouth without resistance and Whitney's hands dug into his shoulders as she held onto him. He nearly growled against her lips. Suddenly he felt like he'd been starving for her, and it was harder than it should have been to keep the kiss from leading somewhere.
He was hard and suitably breathless when the kiss broke. The sound of her own uneven breathing drew a brief grin from him. Until he remembered the reason for her demand. "Was Dylan bothering you?" he asked, voice low so as not to carry.
Whitney laid her head on his shoulder, face turned in so that she could talk quietly. "More like annoying. I'm hoping he'll take the hint."
Doing his best to smother his growl, Adam bent his head and traced his lips along her slender throat. "We'll just keep reinforcing it." Right then, right in that moment, Adam would have marked her as his just to keep her safe from another wolf's harassment. As it was, he vowed that for as long as she was his he'd make sure his scent lingered on her skin. Thick enough that no wolf with half a nose could miss it.
"Are you sure about including them?" Whitney asked, drawing him out of his lust-induced frenzy. Mostly.
Adam frowned and lifted his head so that his chin rested on her head. She fit perfectly against him. Slender and soft, a good head shorter. Perfect for holding in his arms and wrapping himself around. But this wasn't the time to be thinking about those things. Those might be things best left unexplored, even. "I'm reserving judgment. I have to consider it, at least."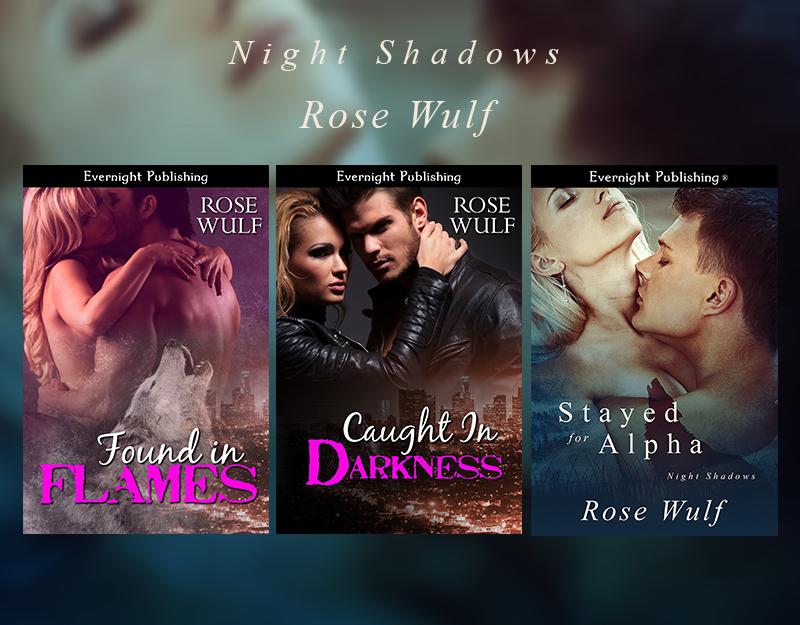 Where to Buy:
✽ Amazon
✽ ARe
✽ Barnes & Noble
✽ BookStrand
✽ Evernight Publishing
✽ Kobo
About the Author:
Rose Wulf is a giant romance fangirl. Hot, protective, sometimes even downright barbaric heroes and spitfire heroines are her favorites. Rose has been writing for as long as she can remember, and over the years she's only grown fonder of it. The bonds between characters have always captivated her, and as an author those are Rose's favorite things to play with – not always to the relief of her fictional babies!
Behind the scenes Rose is a quiet personality. She enjoys spending her non-writing time with her German Shepherd, Shadow, her mom, and her friends. Be it a fun game of Cards Against Humanity or a relaxing movie night, Rose believes everything is better with company. As for her own romance, she's still searching for her hero (and hoping that, when she does find him, he'll be willing to cook!).
Where you can find Rose:
Website | Blog | Twitter | Facebook | Amazon | Goodreads | Tsu | Triberr | Instagram