Huzzah! Friday is finally here! To kick off the weekend I've got Maia Dylan here with her new release, No Impact. It's the second in her Sniper Team Bravo series and it's available now from Evernight Publishing.
✽✽✽
Thank you for hosting me for my latest release with Evernight Publishing, No Impact – Sniper Team Bravo 1. This book released on August 2.  If your readers would like to they can post questions to me on Twitter using the following hashtag #SniperTeamBravo and tag me using @Maiadylanauthor and I will answer them as I see them.

Five questions for the author:
Q: Every book is special to an author.  What is it about this book that makes it special for you?
A:  This is the second book in a series of four and it all stemmed from an image I found that sparked my interest.  That is one of the very real reasons I love writing! You find inspiration everywhere and a story idea can strike at any time.
Q:  Sometimes things happen when you are writing a series that wasn't expected at all.  Have you had this happen to you?
A:  Heaps!  I am not a planner.  I am a write-by-the-set-of-your-panties kinda girl.  There have been moments where I will finish up a scene and be like WTF?  I did not see that coming!  This whole series started with an image I found that I simply couldn't let go of.
Q: Why do you always include a danger element to your books?
A: I write what I love to read. I love books that take you on a journey, but where the characters face a challenge that adds an element of urgency to them and to the book.  As a reader, there is nothing I like more than getting that goose bump, hair rising on the back of my neck feeling as I join the characters within the book I am reading on the journey to solve their mystery.  I want to give that to my readers.
Q: What are you working on at the moment?
A: I have book nine of the Grey River series, as well as book three in the Sniper Team Bravo series. There is also a new Shifter Ménage series coming soon and a standalone MM as well.  Soooo many stories to tell, so little time!
Q: Do you have anything to say to your current readers or to those that haven't yet read you work?
A: If you have read any of my books, thank you so very much! It blows my mind that someone has actually read something that I wrote, but gosh I hope you enjoyed it!  Did you?  Please let me know, I find I suffer from a slight case of needy-nelly with my writing.  If you haven't read my book, but you love erotic romance stories between strong men and an independent woman, where the path to their happily ever after can be a bumpy one, but there is always a happily ever after, and their love and laugher is real on every page, then you'll find my books right up your alley!
No Impact (Sniper Team Bravo#2) by Maia Dylan
Available: August 2, 2016
Publisher: Evernight Publishing
ISBN: 978-1-77233-946-8
Life is about making an impact, and risking everything to ensure you do…
No impact on the target is the call that a sniper has missed, that their position is now compromised, and the firestorm it can bring could ultimately cost them their lives.
Riley Marksmen has wanted Marcel Cross from the moment they first met. He just had to convince Marcel that he wanted Riley just as bad.  When his first attempt with Marcel results in no impact, he is convinced that a future with Marcel is worth the risk of trying again.
Marcel knows that there is something between him and Riley. He just has to find the courage to take the gamble in the first place. When secrets are discovered, and a threat revealed, it jeopardizes what they've only just started to build.
Can they find a way to the future they've targeted, or will their risk leave No Impact?
[
Read An Excerpt
]
Where to Buy:
✽ Amazon AU
✽ Amazon CA
✽ Amazon UK
✽ Amazon US
✽ Evernight Publishing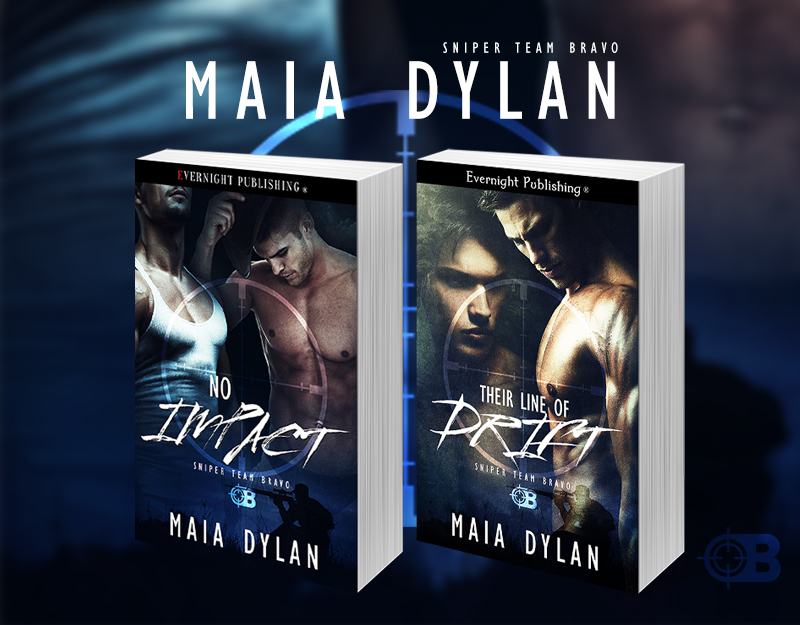 Excerpt:
"So, this is where you've been hiding."
Marcel looked up at the sound of the voice, and his gaze locked with Riley's, who was leaning on the door jamb of the room Marcel had turned into a makeshift office. It had been four days since the incident with the I-beam, and Marcel hadn't realized how much he'd missed simply looking at Riley. The cowboy construction worker was dressed in a tight white t-shirt, jeans covered with construction dust, a well-worn pair of steel cap work boots, and the ever-present black Stetson.
Marcel sat back in the kitchen chair he'd snagged to work in and crossed his arms over his chest. "Saying that I was hiding would imply that I either A, had a reason to hide, which could imply guilt of some description. Or B, there was something or someone I was avoiding and was indeed seeking a place in which to hide. Now, as I am neither guilty of anything, nor am I avoiding anyone in particular, then I can assure you that I have not been hiding."
Riley pushed off the doorjamb with a grin and walked into the room. "Then I guess I was wrong." Marcel quirked an eyebrow and sent the man a pointed look, making Riley wince sheepishly. "Yeah, okay, not the first time I said the wrong thing to you. And that was what I wanted to come and talk to you about. And to apologize for."
Marcel grinned back and leaned forward in his chair, placing his elbows on the desk in front of him. "Really? Well, in that case, please go right ahead. I am, as they say, all ears?"
Riley moved closer to the opposite side of the desk and placed both fists on the surface, leaning forward. "That's good, because I wouldn't want to have to do this twice. When you came onto the site the other day, I should have called you back and explained that the site was now locked down. I failed in my duty as foreman to do that, because, well, to be perfectly honest, I was too busy looking at your ass and imagining it bare for my viewing pleasure as you walked away from me to think about what you weren't wearing on the top half of your body."
Marcel blinked slowly as shock filled his system. He had known that Riley was attracted to him. He wasn't blind to the way the man watched him, and Marcel sure as hell wasn't immune to Riley either. But this was the first time either of them had actually spoken about that attraction out loud.
"When Dale called out that there was movement in the chain holding the ridge I-beam and I looked up, I knew it was coming down. From my vantage point, I could see that it was going to land on you. I dropped what I was carrying and sprinted for you. I was so fucking scared that I wasn't going to get there in time. Then, when I tackled you, if you had resisted at all both of us could have ended up seriously injured, but instead you rolled with me, which I am extremely grateful for."
Marcel shrugged. "That's what we're trained to do."
"Yeah, and that leads me into the apology portion of my visit today." Riley leaned in slightly. "I am really sorry for what I said to you. I never meant to imply that you were an idiot and that shit about you lacking reflexes was a total pile of bullshit. All I can say is that I was acting out of fear, and if I had been thinking I would have caught myself before I shoved my foot so far down my throat I could kick my own ass."
Marcel huffed a laugh. "You certainly have a way with words."
Riley sent him a cocky grin that had excitement fluttering in Marcel's belly. "Wait until I'm convincing you to go to bed with me, then you'll get a real good understanding of just how good I can be with words."
© MAIA DYLAN, EVERNIGHT PUBLISHING, 2016
[
Read the entire first chapter here
]
About the Author:
Maia Dylan lives, loves and works in beautiful New Zealand.  She married her best friend and they have two adorable, but stubborn children who obviously take after their father.
Maia's career has featured a lot of travel, and she has filled her time at airports and in the air with books, books and more books.  Her love of erotic paranormal romance has seen her amass a huge library.  She has been an avid reader and lover of ménage romances since she read her first book in this genre about three years ago.
Outside of writing, Maia loves to eat, so she loves to cook!  Her herb garden is legendary, but she still has issues getting tomatoes to grow.  She's been a performer for years, and has even sung on international stages, she would love to own a classic Ford Mustang one day and of course have the opportunity to race it on a race track without fear of a speeding ticket.
Although ultimately her dream is to be able to write full time on a sandy beach with a Mai Tai at hand, she is quite happy to fit her writing in when she can.  As long as someone reads her books, gets a laugh and maybe come to love her characters and much as she does, then she feels that she is living her dreams no matter what!
Find her online:  Amazon Author Page US | Facebook | Street Team FB Page |Goodreads | Twitter | Website | Blog | Newsletter Sign Up