Welcome to another Wednesday! Today I've got N.J. Young here to tell you about her latest release, Fierce Temper. Take it away, N.J.!
✽✽✽
Thank you so much for having me on your blog today! I am very happy to share my new release, Fierce Temper! If you like super hot book boyfriends, sizzling M/F/M ménage sex, serious suspense, and a laugh-your-ass off heroine, then I really hope you will check out Fierce Temper!
Fierce Temper (Ozark Magic #2) by N.J. Young
Available: August 3, 2016
Publisher: Evernight Publishing
ISBN: 978-1-77233-947-5
Tessa Lawson has a secret… actually, she has a few. Not only did she used to be known as adult film star Temper Jazz, but she is also on the run after witnessing a murder and stealing $250K from a drug lord. She moved to Magic to hide, but will she be able to hide her heart?
Milo Livingston has his own demons. His guilt over a horrible accident that injured a friend has left him thinking he doesn't deserve happiness. He surely doesn't think that Tessa could ever love him.
When Milo's friend, DEA Agent Archer Collins comes to town searching for Tessa, the trio's world is thrown into upheaval. Archer is intent on bringing down the drug cartel responsible for his sister's death. He never expected to fall in love with the key witness he's been searching for.
After an attempt is made on Tessa's life, Milo and Archer join forces to protect the woman they care about. Will both men be able to overcome their own demons and trust Tessa with their hearts? And will their love be enough to protect her from the dangerous people who want her dead? [Read An Excerpt]
Where to Buy:
✽ Amazon
✽ ARe
✽ BookStrand
✽ Evernight Publishing

Excerpt:
Tessa swallowed, the heat from Archer's touch sizzling through her. Milo's hand slid to the back of her hair as if he wanted his own turn running his fingers through it. He caressed her hair gently, and she nearly moaned in pleasure.
This was a bad idea. A voice in her head kept saying it. But an even louder voice seemed to be kicking that little voice's ass. Maybe the timing wasn't ideal, but she was tired of holding back and putting up walls. She'd tried for so long not to let anyone get close enough to hurt her. Maybe it was time to just let everything go, just let herself go, even if it was only for one night.
"I uh, I mean, I've seen just about every emotion on your faces tonight. Anger, concern … desire? At least I think this is what desire looks like."
"In case you're unsure, let me clear things up for you." Milo pulled her up so she stood in front of him. Even though she thought of herself as big, she felt dwarfed next to Milo.
When he leaned into her, her first instinct was to pull away, but Archer had backed up against her, cutting off any escape route. She began to wonder if the two of them had done this together before. They were gentle, but both of them held her firmly enough, making it clear she wasn't going anywhere.
The heat from their bodies made Tessa's heart pound and her entire lower half throb. It had been a long time since she'd felt this way. Archer's hands rested lightly on her waist as he leaned in to nuzzle her hair. Milo's big hand cupped her cheeks, his thumb rubbing sexy little circles. She swallowed hard, and suddenly found it difficult to breathe. Ever so slowly, he reached up to slide her glasses off. He folded them and handed them to Archer who placed them on the bedside table.
"What are you doing?" she managed to croak.
His hands immediately returned to cup her face, tilting her head up until her eyes met his. Those blue eyes had taken on a smoky tint, and she felt a shudder go through her body as she saw herself reflected in them.
"This. We're doing this." He bent his head slowly, giving her time to stop him, time to say no. But she didn't want to stop him.
About the Author: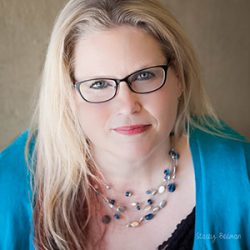 N.J. Young has been a writer since she was old enough to hold a pencil. After realizing the trials of corporate America weren't for her, she decided to leave that world behind and pursue her true dream of writing.
Instead of spending her days writing sexy texts to her husband and engaging in "that's what she said" jokes, she took that energy and poured it into her books. Sprinkle in a couple of hot guys, a little suspense, and a few sexual fantasies, and her first book was born. She now spends her days drinking coffee at her computer, while diving into the adventures of the imaginary friends who live in her novels.
N.J. Young was born and raised in the Midwest, and currently resides in the Kansas City area with her husband, two children, and a menagerie of animals. When she's not writing, she enjoys horror movies, live music, cooking, and telling her kids why they can't read mommy's books.
Find N.J. Young all over the Web
Website/Blog | Twitter | Facebook | Goodreads