Evernight Publishing has a hot new set of anthologies out (Denying the Alpha & Denying the Alpha: Manlove Edition) and today I'm featuring Sarah Marsh's contribution to the collection, Bearly Caught.
DENYING THE ALPHA
Available: November 14, 2018
Paranormal Romance, Erotic Romance
Publisher: Evernight Publishing
ISBN: 978-1-77339-825-9
Some happily-ever-afters take more effort than others…
The strong alpha heroes in our anthology are determined to claim their mates—but their women are anything but submissive. They'll have to work twice as hard to get what they want. It'll be a power struggle as the alphas and their women learn that the volatile energy between them is the beginning of something wonderful.
These nine hand-picked stories are hot enough to curl your toes. Get ready to fall in love with an alpha.
Where to Buy:
Amazon
Apple iTunes
Barnes & Noble
Evernight Publishing
Kobo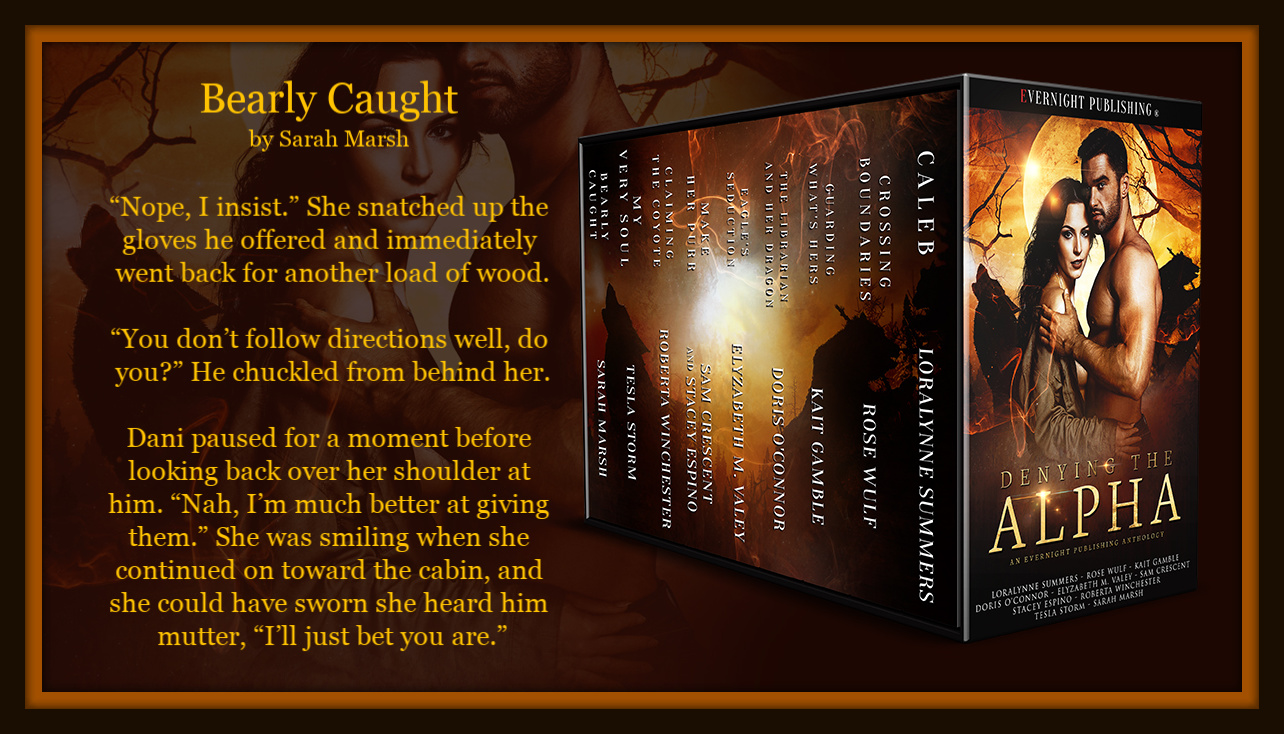 BEARLY CAUGHT by Sarah Marsh
Daniella Holt needed to get away from a controlling ex that wouldn't take no for an answer, she thought that a few weeks in Hillion Falls renovating her Aunt's house before she could sell it would be just the ticket. But there's something odd about the small community that she can't quite put her finger on and the handsome town mayor she runs into is definitely a distraction that she doesn't need.
Emmett Greyson is the pack Alpha of Hillion Falls and things usually come fairly easy for him. Until he meets the niece of one of his former pack members and she has his bear all tied up in knots. Unfortunately, Dani doesn't seem to be like any other woman he's met before, and if he thinks it's going to be easy to get her attention or her trust—he'd better think again.
When Dani ends up hurt they're all in for a surprise no one could have anticipated, but will the crazy changes happening in her life drive her back to the man she didn't want, or will Emmett find a way to catch Dani's skittish heart once and for all?