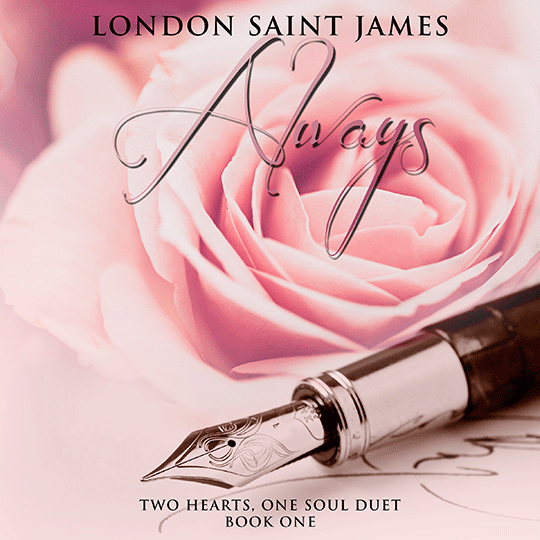 Always (Two Hearts, One Soul Duet: Book One)
Written by London Saint James
Narrated by Tor Thom & Charley Ongel
Listening time: 11 hrs 3 mins
Genre: M/F Contemporary Romance
International bestselling author London Saint James' first installment from Two Hearts, One Soul Duet is the epic tale of abiding love, heart-wrenching loss, and an astonishing bond that will find a way to endure.
Winter Perri never truly understood love until she met Austin Carlyle—the man who would rock her world to its foundations and give her something to believe in. But the night before they were to be married, the fairytale shattered.
Thirteen years later Winter is pulled out of her seclusion only to have a painful past confront her, and when it does, she's left questioning reality, because the impossible is looking back at her with the face of a destroying angel, and piercing eyes in too familiar shades of blue.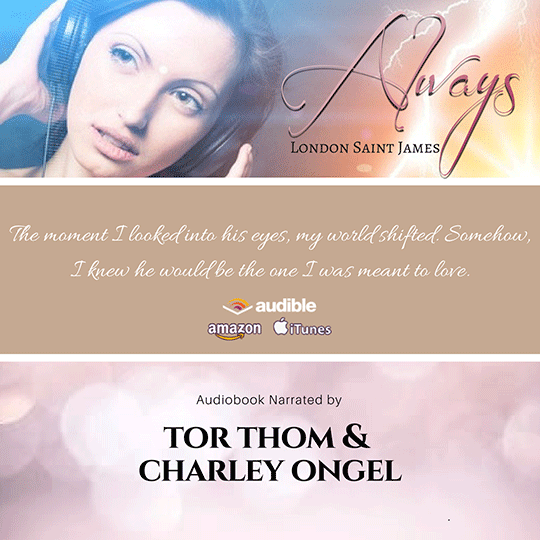 Listen to a sample on Soundcloud
You Can Find the Audiobook Here
Amazon
Amazon UK
Audible
Audible UK
iTunes
Download for free when you sign up for an Audible 30-day free trial
GIVEAWAY
London is giving away a $50.00 Amazon e-Gift Card to one lucky winner. All you need to do to be eligible to win is enter the Rafflecopter below. **Giveaway runs from Sept. 17, 2017 to Oct. 17, 2017
About The Author:
London Saint James has lived in many places, but never felt 'at home' until she met the real-life man of her dreams and settled down in the beautiful Smoky Mountains of Tennessee. London lives with her husband and their fat cat who thinks he owns them.
As an award-winning, international bestselling author, London is living her childhood dream. She knew all the scribbling she did, that big imagination of hers, and all those clamoring characters running around in her head would pay off someday.
A complete list of London's books can be found on her website http://www.londonsaintjames.com. You can also e-mail London with any questions or comments at London@londonsaintjames.com. She loves to hear from her readers.
Would you like to know more? Join her mailing list for her monthly newsletter http://eepurl.com/6P2on. Or, join her book group on Facebook, Slip Between the Pages with London.
You can also find out more about London at the following locations:
Blog: http://londonsj.blogspot.com
Twitter: http://twitter.com/LSJRomance
Goodreads: http://www.goodreads.com/LSJRomance