Who is Dimitri, you ask? And why is Nicola stealing him? Well, I'll let her explain because she does a much better job of it than yours truly. I will say this, though – I read Stealing Dmitri in 2014 (when it was published under a different title) and I fell a little bit in love with Ms. Cameron and her writing. It's safe to say that crush was the basis for a friendship that continues to this day. Solidarity of writers aside, you really must read Stealing Dmitri – it's a rollicking good time full of adventure, snark, and spicy-hot sexytimes. So without any further ado…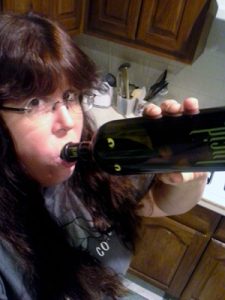 So, lemme 'splain a little about Stealing Dmitri. First off, it's a re-release, originally published by Evernight Publishing in 2014 under the title Two to Tango. Frankly the title was a huge mistake by me — it referenced an event in the book (not to mention the event that inspired the book, namely Misha Collins and John Barrowman tangoing at Fedcon), but it didn't describe the story accurately AT ALL. Bad writer, no new laptop.
Needless to say, the book tanked, despite getting reviews like, "Rory (MacLellan) is to MM/sci-fi what Jamie Fraser is to historical fantasy" (MM Good Book Reviews). When the rights reverted to me this year, I decided to rebrand the book accurately this time — it's a big, bold M/M caper romance set in space with aliens, AIs, and all the fun havoc that comes along with a canvas that big.
The story: Rory "The Highlander" MacLellan is a smooth-talking art thief with his own ship, an alien ship's engineer that looks like a shrub and talks like Scotty, and a smartass AI named Molly. When he steals an alien artifact from a museum, he unintentionally rescues a desperate exoarchaeologist named Dmitri Grigoryev from a suicide attempt.
Problem is, the intergalactic cops now think Dmitri stole the artifact, and Rory has to convince the exoarchaeologist to evade capture by helping him with his next heist. Their simmering attraction doesn't help matters, nor does their respective family issues. Think "Ocean's 11" only with four people (and two hot guy leads who desperately want each other) and you've got the right idea. Anyway, it's now available at Amazon and Smashwords, and will be available at B&N, Kobo, and iTunes by 6/24/19.
Stealing Dimitri by Nicola Cameron
Available: June 18, 2019
Publisher: Belaurient Press
ISBN: 9780463690031
Rory MacLellan, AKA the Highlander, may be the most successful interstellar art thief in the Known Worlds, but he still has a conscience. So when he runs into a suicidal museum worker during his latest job, he has no choice but to stun the man and rescue him from certain death.
Dr. Dmitri Grigoryev was an up-and-coming exoarchaeologist until a disastrous dig left his career in tatters. Hungry, broke, and desperate, the last thing he expected was a dashing thief to come along and save his life.
Thrown together by accident and with interstellar police on their tail, Rory and Dmitri reluctantly join forces for a major heist. But will their simmering attraction get in the way, or prove that they were meant to be together?
Where to Buy:
Amazon
Barnes & Noble
Smashwords
iTunes
Kobo
Excerpt:
Dmitri turned over, glancing down the line of their bodies. Rory's erection was very obvious in his kilt, almost comically so. The other man must have been contorting himself to keep it off his ass. Of course, now that he was face up, his own erection started filling out nicely.
Rory started massaging his shoulders and arms, going nowhere near his nipples or other erogenous zones. Finally, he couldn't stand it anymore. "Um, you're hard."
"I know," Rory said evenly. "Don't worry about it."
"Kind of difficult to do that when it's right over my stomach. Besides, so am I."
Rory gave a half shrug. "Totally normal. Lots of guys get an erection during a massage. Don't worry, it's not like I'm going to make a move on you or anything."
He didn't understand why that admission annoyed him, but it did. "Of course not," he muttered. "Why would you?"
Rory stopped at that, frowning. "What's that supposed to mean?"
"I don't know." He turned his head, staring at the bulkhead. "Never mind."
"Hey." Long fingers cupped his chin, urging it back. "I'm not making a move on you because I don't believe in hitting on someone when they don't have a way out of the situation. I mean, yes, I think you're incredibly hot, which should be obvious by the fact that my cock can now cut diamond." Rory glanced down at his crotch and grinned. "But that's my problem, not yours."
That's what you think. Dmitri could feel Rory's body heat moving through him, lighting up nerve endings. He'd been sure that his life would be one long, slow slog through museum workshops, getting older and more bitter with each passing year until he was shunted off to some sterile senior station to die.
Instead, he had been kidnapped during a heist by the Known Worlds' sexiest antiquities thief, rescued from CAPOD by said thief, been given the chance to restore a shattered Saolao ceremonial bowl, and now had the same sexy thief kneeling over him with a rock-hard erection after giving him the best massage of his life. Except he's backing off like I'm a nervous virgin.
It was time to take matters into his own hands, quite literally. He cupped his palms over Rory's exposed knees, feeling the other man twitch from the unexpected contact. "What if I said yes?"
Rory frowned. "I'm sorry?"
"What." Dmitri slowly ran his fingertips under the tartan, up Rory's thighs. "If I." He pressed the heels of his hands against the soft prickle of hair and the lean muscle underneath, continuing his upward slide. "Said yes?" His fingers reached the top of each thigh, dancing over the crease where leg met groin. The skin was smooth there, but he could just feel the beginnings of crisp pubic hair brushing his thumbs, and the heat from what had to be an aching cock.
He wouldn't let himself touch it. Not until he was sure they both wanted this. "Or do I have to spell it out for you?"
"Nooo, I think I'm catching on." Eyes gleaming, Rory leaned over and kissed him. "Is this all right?" he whispered, each word the softest puff of breath against Dmitri's lips.
"Definitely."
"Good. Because if you don't put your hand around my cock in the next thirty seconds, my head is going to explode."
Dmitri couldn't help chuckling. "Well, we can't have that, can we?"
About the Author:
Nicola Cameron is an expatriate Chicagoan who has lived in England, Canada, Holland, and Sweden, and keeps a confusing amalgamation of languages in her head as a result. Currently located in the clavicle of Texas, she has finally mastered the proper use of "y'all," much to her Chicago family's dismay.
Despite a healthy interest in romance and sex since puberty, it wasn't until 2012 that Nicola decided to try writing about it. As it turned out, the skills she picked up during her SF writing career transferred rather nicely to erotic romance. When not writing, she wrangles cats, smooches her husband, makes dolls of dubious and questionable identity, and thanks almighty Cthulhu that she doesn't have to work for a major telecommunications company any more (because there's BDSM, and then there's just plain torture…).
Website /Blog | Facebook | Twitter | Goodreads | Bookstrand | Amazon