Happy 2019 everyone! We made it through another year and holiday season. 🙂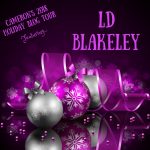 I don't know about you, but this first day back at it is tough. I won't lie: there's a very real chance I may spend a good portion of the day dinking around online and reading instead of doing actual work. I mean, it's a short week anyway – how are we really going to accomplish? 😉
With that in mind, why not check out my guest spot over on the lovely Cameron Allie's blog. She has a brilliant Holiday Blog tour happening to introduce you to a whole slew of authors AND there are loads of prizes to be won!
You can check out my guest spot HERE. Drop by and leave a comment for a chance to win a copy of two spicy little holiday titles: The Power of Peppermint and Best Worst Ever.  And while you're there, check out an excerpt from my latest release, Shadowy Pines.
You can check out Cameron's spot (and all the rest) HERE. Click on over to meet your new favourite author and for a chance at some great prizes!