Apologies for the chorus of crickets you've been hearing around my blog lately. Would it help if I brought you not one, but TWO hot new romances from the lovely Lynn Burke, today? It would? Awesome! Then it shall be done…
Third Wheel (Elite Escorts #1) by Lynn Burke
Available: May 18, 2017
Publisher: Evernight Publishing
ISBN: 978-1-77339-286-8
Carpenter by day, man whore extraordinaire by night, Reid Sullivan lives every man's dream. But, Elite Escort's hottest third wheel longs for something more than casual sex with clients.
Jessica Lindy's testimony helped put her ex-husband behind bars, but she can't escape his vows of revenge. A jaded single mom, she guards her heart and daughter's life against any man.
One fateful night with Reid, the temptation for Jessica to allow another man into their lives becomes too hard to resist. But when her past collides with the present, lives–and love–will be lost unless Jessica learns how to lower her defenses. Can the professional escort convince the wary young mom that he can be a different sort of third wheel–the one she can trust?
[
Read an excerp
t]
Where To Buy:
✽ Amazon UK
✽ Amazon
✽ Bookstrand
✽ Evernight Publishing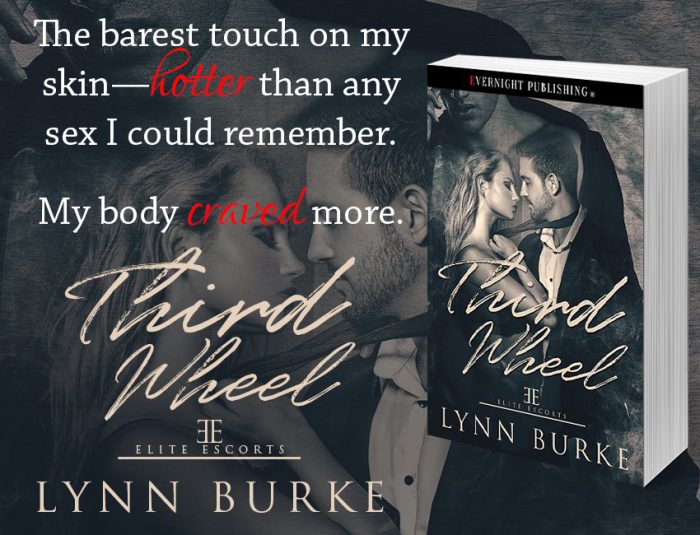 Excerpt:
"Go into the bedroom and take your clothes off," he said, stepping back, hands releasing their hold on me. "There are towels in the adjoining bathroom. Wrap one around yourself and get comfy on that big ass bed, belly down."
Uh … oh yeah. Massage. Right.
Unable to find my voice, I nodded and tried to walk away. Damn heels near sent me sprawling on the floor.
"Here. Let me." Reid dropped to his knees and lifted one of my feet to unbuckle the black heels Christine had insisted on.
I grabbed hold of his shoulder to keep from falling over, my gaze locked on the dark head inches away from my throbbing clit. Thoughts of him lifting my dress's hem with his teeth brought a moan to my throat, but I bit down on the inside of my lip to keep from letting it out.
His large hand slid up my calf and back down before making short work of the clasp. My foot slid free, and he ran his hand up my other leg, catching my breath.
Get a grip, Jessica. The barest touch on my skin—hotter than any sex I could remember. My body craved more. One little lick, one little pinch on my clit, and I'd be screaming my release for the world to hear.
"Go on," Reid said, standing and stepping back, my heels dangling from his hand.
With another thoughtless, dumb nod, I managed to make my feet move. I eyed the massive bed while making my way across the bedroom to the open bathroom door. Images of Reid's ass clenching with each thrust into my writhing body beneath his flashed across my mind.
"G-good God," I whispered.
Hands shaking, I all but ripped off my tight dress and restricting bra, but paused to consider my panties. A full body massage…
Another few seconds of indecision and I slid the soaked bit of silk down my legs. Just in case he wanted to knead my ass cheeks. And, nothing more than that, I told myself while wrapping a white fluffy towel around me. A peek into the bedroom revealed it empty, so I scooted to the bed, pulled back the comforter and top sheet, and lay face down a little ways from the edge, eyes clenched shut, pulse pounding through every cell of my body.
Closer than a hair to hyperventilation, I focused on slowing my breathing. Relaxed my muscles as soft instrumental music floated through the closed door.
"Jessica?" Reid's low voice raised what little hair I had on my body. "Can I come in?"
I squeaked a reply but had to clear my throat and try again. "Yes."
Yes. Please come … I mean, come in. Touch me. Make me come.

Finding Fulfillment (Found by Fate #3) by Lynn Burke
Available: May 22, 2017
Publisher: Roane Publishing
ASIN: B071HZM5QQ
Jade Matthews may be young, but she knows what she wants in a man–someone mature and kinky, a man who shares her deepest desires to have her pregnant and barefoot in the kitchen and submissively compliant in the bedroom.
Archer Brennan aches to unleash his dark side on the too-young grocery bagger, with her pert pony tail and glossy lips that makes him yearn for a taste. With an ex-wife and a messy divorce threatening to destroy his pursuit of happiness, he binds himself to one rule — hands-off Jade's tight body until his divorce settlement is final.
A submissive must obey her Dom, but some rules were meant to be broken, and when one misstep threatens the dominant lawyer's life, will Jade defy Archer's hands-off decree or lose the only man capable of fulfilling all of her dreams?
[
Read an excerpt
]
Where To Buy:
✽ Amazon UK
✽ Amazon
✽ Barnes & Noble
✽ Bookstrand
✽ iTunes
✽ Kobo
✽ Roane Publishing
✽ Smashwords

Excerpt:
I jerked off after my late lunch, thinking I'd be more relaxed and in control once Jade arrived for my…little test. No such damn luck. Nancy rang to let me know Jade had arrived and I instantly went hard. I wanted to tell Nancy to just send her on in, but the gentleman in me wouldn't allow such an action, hard-on or not.
Standing, I buttoned my suit coat to hide the bulge in my pants and headed for the office door. When I pulled it open, our gazes collided and my attention slid down her neck to where her pulse thrummed. Satisfaction coursed through me.
"Jade," I smiled, knowing the lust simmering inside of me shone in my eyes. "Come on in." I stepped back, gesturing her past me and breathing in the scent of snickerdoodles. My hand moved without thought to rest on her lower back as she walked into my office. Her breath caught, and a quick glance up into my face had me jerking my hand away.
Fuck. Can't touch.
I cleared my throat and shut the door behind her. "You look amazing."
Pink tinged her cheeks. "Thank you."
"Why don't you have a seat on the couch today?" I motioned toward the loveseat beneath my office's lone window with its upward slanting blinds for privacy.
I sat in my office chair but swiveled to my right to face her.
Jade perched on the couch's edge, knees together and hands folded on her lap.
I took my time drinking in the sight of her—barely there makeup, hair caressing her shoulders, naked lips, and that dress.
Goddamn, she'd never looked better. The color of her name, the dress wrapped snug around her, the cleavage of her pert breasts barely concealed by the deep V-neck. Stiff nipples, bare legs, and strappy tan heels…and if she followed my thoughts for our meeting, no panties.
My cock strained, hands shook.
Get a grip, man. You're thirty-five years old, for Christ's sake, not some teenage jerkoff who can't control his shit.
"How am I supposed to keep my hands off you?" I murmured, tearing my attention from the darkness between her legs.
Her blush deepened as she shrugged.
I forced myself to settle in my chair. "Sit back, darling. Relax."
She eased backward into the couch, but tension hitched her shoulders high.
I wanted the test I had in mind to reveal what I hoped it would, but being strung tight would hinder her response to me. "How was your week?"
"Long and boring, same as last week." She sucked in her lower lip and released it, sending another jolt of lust straight to my cock. "I'll admit, my nervousness over today probably made it worse."
"What are you nervous about?"
"The meaning of your note. Your plan." Her voice escaped as a whisper, and she swallowed. "Wondering if you'll finally touch me beyond a mere brush of fingers."
My hand flexed at the thought as my heart picked up pace. "More than anything, I want that exact thing."
We stared at each other for a few long seconds, the sexual tension thick between us.
I needed to wait until Nancy left. "All in good time," I finally said, needing to clear my throat. "For now, talk to me. Tell me about your hobbies. What you like to do for fun."
Jade heaved a deep breath, her breasts rising and drawing my focus downward. Pebbled and begging for my teeth, her nipples pressed tight against the green material covering them.
"Talk to me, Jade," I encouraged, returning my gaze to her face with a slight smirk which she returned.
A half hour flew by as we chatted, and the inner office ring of my phone startled me. I picked up. "Yes, Nancy?"
"If you don't mind, I'm going to head out early for the day."
"That's fine. I'll finish up with Miss Matthews here in a few minutes. Would you mind locking the front door on your way out?" I asked as always whenever she left before me.
She agreed and I hung up, turning back to Jade. Her brow furrowed, she played with the ties of her wrap dress.
"Jade." She glanced up. "Close your eyes for me."
She obeyed without hesitation, her brow smoothing, and my chest swelled with the trust she showed me.
"I'm going to tell you a story, and I want you to imagine it in your mind. Can you do that for me?"
Her plump lower lip disappeared inside her mouth again as she nodded.
The sound of the front door closing filtered through the blood rushing between my ears.
Time to play.
About the Author:
Lynn Burke is a full time mother, voracious gardener, and scribbler of spicy romance stories. A country bumpkin turned Bay Stater, she enjoys her chowdah and Dunkin Donuts when not trying to escape the reality of city life.
Find Lynn online: Website | Blog | Facebook | Twitter | Goodreads | Amazon