Today I have the prolific Maia Dylan dropping by with Release Point, the final installment in her Sniper Team Bravo series. She was also kind enough to do a quickie Q & A!
Q: Every book is special to an author. What is it about this book that makes it special for you?
A: This is the final book in this series of four, and this whole series was my first foray into MM's. Maddox and Glenn were always going to be the most emotional journey in this series, but I never anticipated how it would affect the readers. I have had more people asking about this book than any other in this series.
Q: What was your favorite part of writing this book?
A: Finally getting to see Maddox and Glenn work their way to an HEA. They have intrigued me from the very beginning and seeing them get together was so rewarding. As an author, you most definitely bond with your characters, and in this book, that bond was strong!
Q: Why do you always include a danger element to your books?
A: I write what I love to read. I love books that take you on a journey, but where the characters face a challenge that adds an element of urgency to them and to the book. As a reader, there is nothing I like more than getting that goose bump, hair rising on the back of my neck feeling as I join the characters within the book I am reading on the journey to solve their mystery. I want to give that to my readers.
Q: Do you have anything to say to your current readers or to those that haven't yet read you work?
A: If you have read any of my books, thank you so very much! It blows my mind that someone has actually read something that I wrote, but gosh I hope you enjoyed it! Did you? Please let me know, I find I suffer from a slight case of needy-nelly with my writing. If you haven't read my book, but you love erotic romance stories between strong men and an independent woman, where the path to their happily ever after can be a bumpy one, but there is always a happily ever after, and their love and laugher is real on every page, then you'll find my books right up your alley!

Release Point (Sniper Team Bravo #4) by Maia Dylan
Available: May 30, 2017
Publisher: Evernight Publishing
ISBN: 978-1-77339-299-8
Snipers refer to a point where a decision made could change the course of a target's journey, as the release point. When Maddox Devereaux walked away from Glenn Webster six months ago, he'd reached that point and the path he chose meant he could never go back.
Maddox headed into combat and eventually found himself being held captive and tortured in South America by the head of a drug cartel hell bent on revenge. For Maddox, he felt as if that might just be his penance.
Glenn was tired of his team thinking that he was broken. Yes he had been raped, yes it had been horrible, but he had found a way to deal with that. What he was finding hard to process was how he had pushed Maddox away right when he needed him most.
When they find out that Maddox is being held captive, Bravo do what they do best. They load up and go to war. Maddox comes home and it takes all of them to help him heal. Little do they know, they are now the ones being hunted.
Can Glenn and Maddox find their way back together, or will this release point result in an outcome neither of them will survive?
[
Read an excerpt
]
Where To Buy:
✽ Amazon AU
✽ Amazon CA
✽ Amazon UK
✽ Amazon US
✽ Bookstrand
✽ Evernight Publishing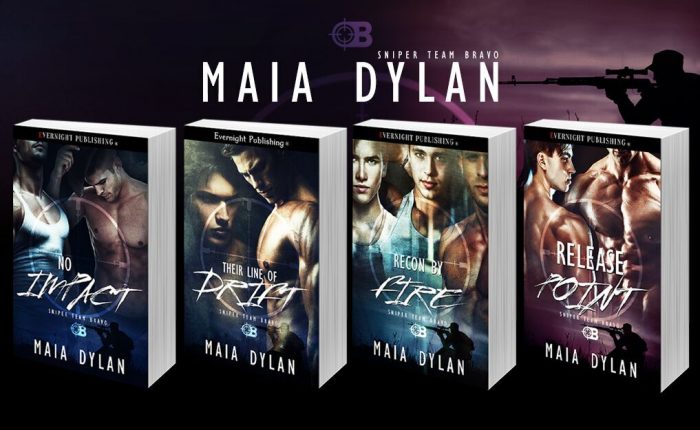 Excerpt:
On the floor just inside the door, a man lay dead, a nasty looking knife wound at his temple. When Glenn's gaze moved to the back of the room, he saw two men fully engaged in a knife battle. Both were bleeding heavily, but fighting with a confidence that spoke of hours of training. But only one of them was a man Glenn knew better than himself.
Glenn lifted his gun to put a bullet in the Hispanic man who was swinging his knife toward his spotter, but stopped when Maddox threw him a quick glance that gave Glenn pause. For whatever reason, Maddox needed to do this. Glenn cursed when Maddox moved with his opponent, putting his back toward Glenn. There were large strips of skin missing from his back, and huge, bleeding red welts. Add to that the knife wound Glenn had spotted on Maddox's upper chest and the huge gash that marred his stomach, and he had no clue how he hell the man was still standing.
As he watched, Maddox's opponent faked right in a move so obvious Glenn knew it was over. A split second later, Maddox cried out in triumph as he drove his knife to the hilt into the top of the other man's skull. He was dead before he hit the ground. Maddox turned, swaying on his feet, his breathing heavy and fast.
The two of them stood in that hellhole, the smell of blood, and death thick in the air, and simply stared at each other. Maddox's expression was one Glenn had never seen before. He had witnessed Maddox dispatch their enemies without any hesitation, doing what had to be done, but there was always a flicker of pain at having to take another man's life. Especially in war when both were simply following the orders of others. In this moment, there was no remorse. No pain. No emotion whatsoever. It was as if Maddox had checked out.
Glenn stepped forward cautiously. "Maddox?" An ache appeared in the center of his chest when Maddox flinched.
"Am I dead?" Maddox asked in a stilted voice.
Glenn frowned. "Nah, man, you won that fight. You're still standing."
"Are you sure?" Maddox's voice was slurred.
"Yeah, brother," Marcel said from his position by the door. "You are definitely still standing, but we have no idea how the fuck you're doing it."
"Stubborn ass willpower would be my guess," Dev growled as he strode forward, stepping past Glenn and approaching Maddox. Dev stopped immediately when Maddox shied away. "Maddox?"
"Why're y'all here?"
Dev moved a step closer. "We're here for you, dumb ass. You're Bravo."
Maddox shook his head. "No. Not Bravo. No absolution for me. I … failed–"
© MAIA DYLAN, EVERNIGHT PUBLISHING, 2017
Want more? Read the first chapter HERE!
About The Author:
Maia Dylan lives, loves and works in beautiful New Zealand.  She married her best friend and they have two adorable, but stubborn children who obviously take after their father.
Maia's career has featured a lot of travel, and she has filled her time at airports and in the air with books, books and more books.  Her love of erotic paranormal romance has seen her amass a huge library.  She has been an avid reader and lover of ménage romances since she read her first book in this genre about three years ago.
Outside of writing, Maia loves to eat, so she loves to cook!  Her herb garden is legendary, but she still has issues getting tomatoes to grow.  She's been a performer for years, and has even sung on international stages, she would love to own a classic Ford Mustang one day and of course have the opportunity to race it on a race track without fear of a speeding ticket.
Although ultimately her dream is to be able to write full time on a sandy beach with a Mai Tai at hand, she is quite happy to fit her writing in when she can.  As long as someone reads her books, gets a laugh and maybe come to love her characters and much as she does, then she feels that she is living her dreams no matter what!
Find her online: Amazon Author Page US | Facebook | Street Team FB Page |Goodreads | Twitter | Website | Blog | Newsletter Sign Up