Ravenna Tate has a new series that will surely make you sweat! Book #1 in the Spanking Experiments, Paddled By The Teacher, is available now!
Paddled By The Teacher (The Spanking Experiments #1) by Ravenna Tate
Available: June 8, 2017
Publisher: Evernight Publishing
ISBN: 978-1-77339-307-0
Chelsea Anderson has entertained fantasies of being spanked and paddled all her adult life. But until she found an ad on a BDSM site, seeking participants for a survey on impact play, she had given up hope of fulfilling those fantasies in real life. Intimate relationships haven't worked out for Chelsea. She feels like a freak because of her secret desires, and because of her poor body image, she doesn't believe herself lovable.
Slade Taylor, the Dom at Sensations who introduces her to impact play during one erotic night at the club, is everything she's ever dreamed of. Handsome, charming, and in control. Slade also has been unlucky in love, but would a man like him be interested in anything beyond this experiment with her? Is it possible Chelsea has finally found the man of her dreams?
[
Read an excerpt
]
Where To Buy:
✽ Amazon
✽ Bookstrand
✽ Evernight Publishing
✽ Smashwords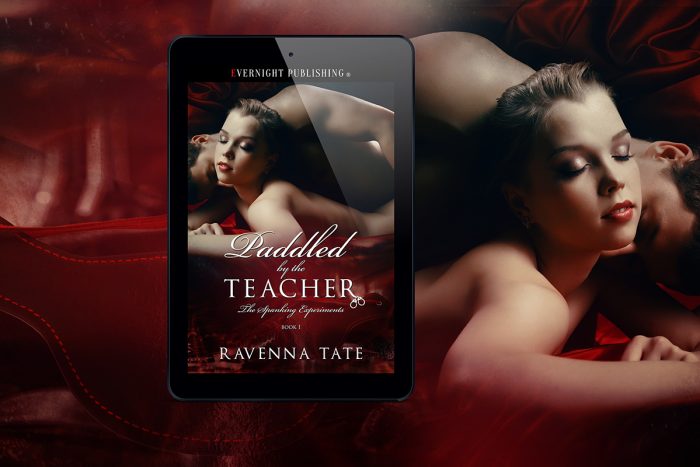 Excerpt:
He kisses me, tongue and all, and I'm lost in the dizzying sensation of strong arms enfolding me while that magical mouth works over mine. His dick is rock hard again, and I move my hips against it, rocking them forward and backward, until I'm so damn wet the juices trickle down my thighs.
"Chelsea…" His whisper sends shivers down my spine. That incredible mouth moves to my neck, where he plants tiny bites up and down my jawline. I want to fuck him so badly I taste it.
"Where do you want to be for this? The cross again? One of the benches?" He grasps my breasts and dips his head, licking the nipples with long, slow strokes. "I can't wait to see these clamped."
"Wherever you want me." Thinking is impossible. Breathing is difficult. Speaking is a chore.
"Come with me." He takes my hand and leads me toward a bowed leather bench. I've been intrigued with this one since spying it when I first came into the room. "This might be too intense for you since you'll be restrained and completely open to me."
"I'll be all right. Thank you for asking."
The expression on his face is tender. "Your care is my concern."
I like this. A lot. "Is it really this easy?"
Confusion fills his eyes. "Is what really this easy?"
"Being a submissive."
"Everyone's dynamic is different. If you were my sub, we'd work new things in over time, once you were ready. But of course, that would depend on what you enjoyed, and what didn't do it for you."
"What about you? What does it for you?"
Every time he grins, I want to get on my knees and beg him to fuck me. Hard. "I've already told you my two favorite things, Chelsea, and we've done them both. The rest is icing on the cake."
After he assists me into a comfortable position on the bench, and both my wrists and ankles are restrained with soft leather, I understand what he meant about this being intense. It's that, plus it puts me into a vulnerable position. My arms and legs are spread wide, and my hips are arched upward slightly. The bench itself can be raised or lowered, lending all sorts of decadent possibilities to what he will do with me and to me.
He makes a show out of circling me on the bench, that sexy grin on his face. When he pulls gently on his cock, I yell in frustration. "Please…"
"What do you want, Chelsea? Tell me." The movement of his hand up and down his shaft grows faster. Tiny beads of pre-cum are visible at the tip. I lick my lips. "Tell me in detail what you want me to do to you, or I will stand here and beat off in front of you."
"Oh!" This isn't just teasing. The truth is in his eyes.
"I told you. I mean what I say, and I say what I mean."
Speak now, fool! "Flog my nipples. With a softer flogger, please. Hit them. With … with your hands, and with a soft toy. Put clamps on them. Flog my pussy. Paddle my pussy."
A huge, wicked grin slowly spreads over his face as I confess my secret desires. "What else? You're not done. There's more in your eyes."
Shit. I have to say it. There's no way around this. He senses it, and will make me tell him, or this will stop. "Fuck me," I whisper, as huge tears spill over my lashes. "Fuck me, Slade. I want … I want your dick inside my pussy."
Satisfaction and lust fill his eyes. "Finally. I've been waiting to hear that since the second you walked in here."
About The Author: