Amber Morgan has a hot new paranormal Romance on the Go™ called Blood of Angels, and she's stopped by to give you a sneak peek!
✽✽✽
Hello! Thank you for having me today and letting me share a teaser from my new release, BLOOD OF ANGELS. I loved writing about my Southern belle, Thea, and her fallen angel, Turiel. There's something so appealing about writing an angel as a romantic hero. I'm not sure what it is – maybe a sense of the taboo? Angels are supposed to be pure, spiritual beings, after all, not the kind to get down and dirty with us mere mortals. Is that why we love reading and writing about angels discovering love and sex? Or is there just something irresistible about a man with wings?
Well, sadly, Turiel has lost his wings, but I think if you asked him, he'd say it was worth it for what he finds with Thea… 😉 I hope you love reading their story as much as I loved writing it!
Blood of Angels by Amber Morgan
Available: May, 2017
Publisher: Evernight Publishing
ISBN: 978-1-77339-285-1
Thea Clayton knows her life isn't normal. But even she wasn't prepared for an angel to fall through her roof.
Turiel gave up his place in Heaven to experience true sensations for the first time in his immortal life. He didn't realize that meant pain as well as pleasure.
Thea isn't the only person who knows Turiel has fallen. The blood of angels is a precious thing. And some people will do anything to steal it.
[
Read an excerpt
]
Where To Buy:
✽ Amazon UK
✽ Amazon US
✽ Bookstrand
✽ Evernight Publishing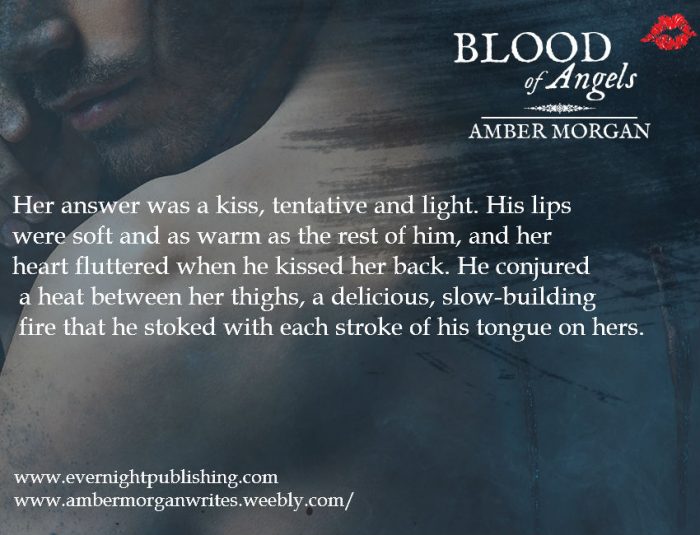 Excerpt:
Turiel reached down between his legs, stroking himself with slow, leisurely movements. His eyes fell shut, his shoulders relaxing, and she was reminded of nothing so much as a cat basking in the sun, warm and lazy. She watched his hand move, watched his shaft stiffen, and wondered if it was an invitation to her. Last night he'd seemed so broken, so lost, too much so for her to contemplate sex. A few hours' sleep shouldn't make that much difference. He still was what he was. A miracle, a masterpiece, a fallen angel…But he was somehow also a man.
She felt like driftwood on the seas, battered around by her conflicting emotions. He opened his eyes again, watching her watch him. A slow, shy smile spread across his face. "I trouble you."
It took her two attempts to answer, and when she did, her voice was throaty and trembling. "In a way."
"I don't want to upset you, Thea."
"I'm not upset." She was spellbound. He was no Louis Lee, that was for sure. She wanted to wrap her hands around his thick cock, wrap her lips around it, taste that silken, golden skin. She wanted it with a fierceness that was too much to handle and yes, it troubled her.
"I can leave," he said.
"You still don't have any clothes," she said.
"Does that trouble you? You seem preoccupied by it."
He was teasing her. There was a studied insouciance in his voice and she found herself smiling. "I am hopelessly preoccupied by your lack of clothes, absolutely."
He bit his lip and reached out for her. He took her hand in his and guided it to his waiting shaft. Thea gasped, breathless, as her fingers closed around him. Velvet and warm, he was, like a well-aged whiskey made flesh, and she closed her eyes as she stroked him, enthralled. She felt reckless, careening towards a cliff-edge with every touch. This was the madness that would take her, she decided. Not alcohol or paranoia, but the searing touch of angel's flesh.
He closed his eyes, expression rapturous. "You will make me mad," he murmured.
She said nothing, growing bolder and firmer in her strokes, revelling in the knowledge that she was pleasing him. This work of art, this divine creature, who surely could have fallen anywhere in the world and had men and women flock to him, he was here with her, and it was her hand, her touch putting that shine in his face, stirring his body. It was a powerful knowledge and it lead down a dangerous path. What else could she do? What else did she dare do?
It might have been enough to stay like that forever, him kneeling in a tangle of bed sheets, Thea laying alongside him, her hand caressing his cock with an ever-increasing possessiveness. Turiel sighed and whispered in that fluid, alien language, and she had a sense of time crystallizing around them like sap into amber. They would stay perfect and preserved like this forever, and that might be enough…but he made her hungry and he wanted to feel, to touch, and there was so much more she could show him…
About The Author:
Amber is the secret identity of a writer who normally pens urban fantasy, but feels like stretching her wings. Amber loves darker romance, anti-heroes, good red wine, and expensive chocolate (sometimes all at once). She's based in the UK and lives in an adorable cottage with her dream man, one adorable cat, and one sulky snake.