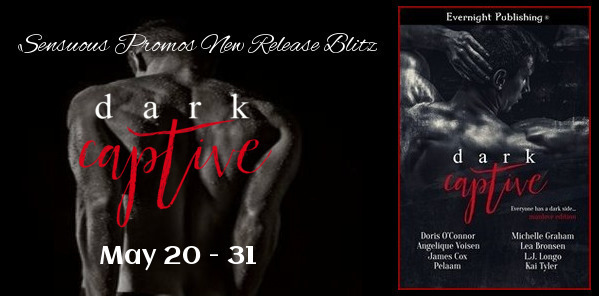 Everyone has a dark side…
Dark Captive is an exclusive collection of dark erotic romance stories featuring alpha men with fierce sexual appetites. They'll stop at nothing to get what they want. And they have their sights on one man. Possessive and bold, these heroes give their conquests exactly what they crave—to be taken … to be owned. Any resistance offered will be tested, but in the end love rules.
Kidnapping, abduction, and sexual slavery are just a few of the titillating taboo themes in this hand-picked manlove anthology.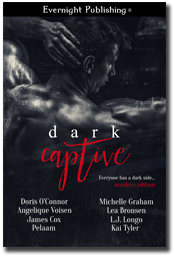 Dark Captive Manlove stories:
Ransomed by Doris O'Connor
Collecting His Debt by Angelique Voisen
I Love the Way You Hurt Me by James Cox
Shanghai by Pelaam
Taken by Michelle Graham
Get Off Hard by Lea Bronsen
Uninvited Love by L.J. Longo
Runner by Kai Tyler
Spotlight on Shanghai by Pelaam
Successful businessman and co-owner of the Leather Slipper, Noah has led a purposely solitary life since the death of his husband. However his attention is captivated by the aggressive and apparently anti-social Finn who frequents his bar.
When Finn assaults Noah in the bar, it gives Noah a priceless opportunity to show Finn he knows exactly what Finn needs.
When an irresistible force and an immovable object collide, sparks fly. Can Noah prove to Finn he can be trusted?
Excerpt:
Noah gave a mental shrug. I'm pretty laid back unless I'm immersed in a scene. No good me trying to pre-empt how he'll behave. Just go with the flow.
Finding a comfortable niche, Noah watched the various couples. Two Doms were working one sub, his mouth wrapped around one Dom's solid cock as the other paddled his ass. Another couple were using a flogger, and at the end, a sub was manacled to chains dangling from the ceiling. A flash of platinum caught Noah's eye and he moved deeper, working his way through the crowd,
Sure enough, it was Finn. The man seemed mesmerized with the scene. The sub everyone was watching wore male lingerie–matching pink bra and panties—and black hold ups with a pink lace trim. His silver stilettos had to be at least four inches high, but he owned the scene.
He and his Dom pushed everyone's buttons as the Dom prowled around his captive with a flogger, occasionally flicking it over him, while the sub kept silent, glaring at his Dom, the tension building. When the Dom pulled his sub's hard cock free, there were more than a few groans. But when the Dom started to fuck his sub, a look of ecstasy lit up the sub's face, and a lot more of the gathered crowd openly groaned.
Choosing the moment very carefully, Noah made his move, circling around Finn so the blond wouldn't see him until Noah had already reached him.
Stepping in front of Finn, Noah smiled. "My name's Noah. I've seen you around here quite a lot. Always alone. Care to have a drink with me?" Despite the softness of Noah's approach and tone of voice, Finn jerked as if he'd been touched by a cattle prod.
"Not interested. Piss off." Recovering quickly, Finn glared at him.
"You may not be interested in the subs sniffing around you, but that's natural since you're a sub yourself." The flash of fear that flickered in Finn's eyes took Noah by surprise. Without thinking he reached out to him. Finn shot out a fist, catching Noah solidly on the nose. Grunting Noah stepped back, touching his nose gingerly. It was bleeding, but not badly. One of his security men appeared within seconds.
"You okay, Boss? You want me to throw him out?" The man eyed Finn as he would dog shit on the sole of his shoe.
"No. Just a misunderstanding." Noah shook his head, taking a perverse pleasure in Finn's shocked look. "That's right. I'm that Noah. This is my club." He took a step closer to Finn, as if the crowd around them no longer existed, his gaze locked on the other man's. "You and I will meet again. See you. Soon."
Where to Buy:
✽ Amazon
✽ ARe
✽ Evernight Publishing
$50 Evernight Gift Card Giveaway
Visit all of the tour stops to find out more about each story in this amazing anthology!
5/20: Taylor Brooks
5/21: Sensuous Promos | Lea's Crazy Nights
5/22: Liz's Reading Life | Michelle Graham
5/23: Ravenna Tate | The Book Pub | Donina Lynn
5/24: Kitty's Book Spot! | Gay Fiction Addiction
5/25: Blog Reviews Janis F | Illustrious Illusions | Wallflower Gone Wild
5/26: Love Bites and Silk Ties | Michelle Roth | Nicole Morgan
5/27: Jules Dixon | Darkest Cravings | Nic's Book Nook
5/28: Wulf Tracks | Erzabets Enchantments | Bound by Passion
5/29: Nessie's Place | Nikki's Nofsinger | Begin in the Dark
5/30: L.D. Blakeley | Sage Marlowe
5/31: Pick a Genre Already | Nicki Day | Andrew Jericho