Woohoo! Today's the day: Owned By The Alpha Manlove Edition is LIVE and it's already a Highly Recommended Read at the TBR Pile! Check out the review here.
OWNED BY THE ALPHA: Manlove Edition
Available: April 25, 2017
Published: Evernight Publishing
ISBN: 978-1-77339-242-4
The Alpha lives for the hunt… 
Driven by instinct, an Alpha shifter recognizes his fated mate from one scent, one touch. He'll pursue his man, regardless of the cost, and anyone else would be smart to get out of his way. He won't stop until he takes possession of his prize.
Although the hunter doesn't need convincing, his mate certainly does. The Alpha will have to prove himself as a lover and convince his man that he plays for keeps.
[
Read an excerpt
]
OWNED BY THE ALPHA: Manlove Edition includes:
A Tiger's Luck by Maia Dylan
Last Alpha Standing by James Cox
Mooncrest by Jules Dixon
His Guardian Panther by Elena Kincaid
The Scarf by L.J. Longo
A Matter of Trust by Pelaam
Conflict of Interest by L.D. Blakeley
Where to Buy:
✽ Amazon
✽ Barnes & Noble
✽ Evernight Publishing
✽ iTunes
✽ Kobo
✽ Smashwords
Excerpt (from Conflict of Interest)
Izzy's jaw clenched, but he didn't move.
Eamonn wasn't sure why, but he didn't either. Until he did.
In an instant, he grabbed Izzy by the hips and backed him up against the hard, damp wall. He clenched his fingers tight and stooped to burrow his face at Izzy's throat.
"Ain't it against some code to paw at civilians?" Izzy's breathing was labored and the hitch in his voice went straight to Eamonn's dick.
"I'm off duty."
Which made no fucking difference, legally speaking. But apparently it was enough for Izzy, who thrust his hips against Eamonn and dropped his head to one side, allowing better access to his throat.
Eamonn growled, a low, feral sound rising from his chest. He couldn't claim Izzy. Not here, not now. Maybe never. Jesus Christ, but his scent made Eamonn's mouth water. Tobacco, sweat, and something distinctly Izzy combined to create a bouquet so intoxicating it made his head spin. And when Izzy hipped against him again, his denim-clad erection firm against Eamonn's thigh, his wolf took over.
Kicking Izzy's feet apart, Eamonn insinuated his thigh further between Izzy's legs. In the muted, yellow light of the street lamp, he could see Izzy's fists clench in an effort to keep his hands to himself. Eamonn chuckled quietly and then dragged his tongue up the length of Izzy's throat.
The whimper he forced from Izzy was like music.
So he did it again. Only this time, Izzy's hands reached out and grabbed him as he ground against Eamonn. The musky scent of arousal was thick in the air, and Eamonn couldn't help nipping at Izzy's throat as he struggled to keep his wolf at bay. Scraping his teeth along the corded muscle of Izzy's neck, Eamonn licked at his tender skin. And, as Izzy rutted against his thigh, Eamonn sucked at the delicate flesh just below his ear. He was probably leaving a mark. Good.
"You leave a hickey, I'll kick your ass, Walsh—badge or not."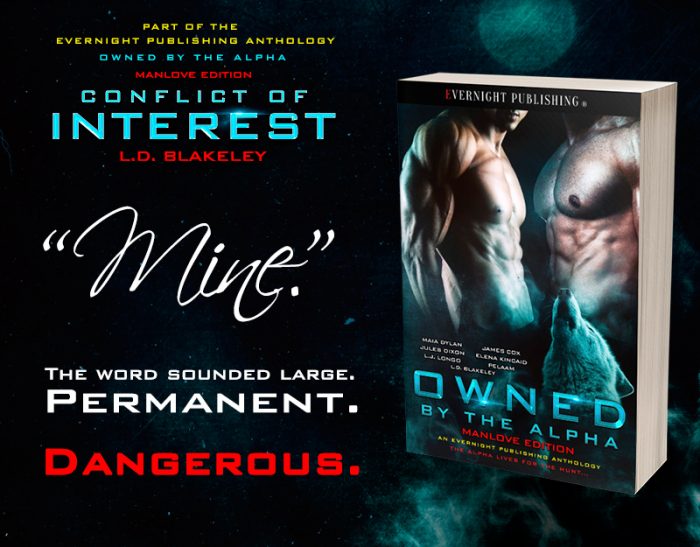 Want even more of a preview? Click below to read from A Tiger's Luck by Maia Dylan!